Naked Woman In Swimming Pool Distracts Man While His Home Is Being Robbed!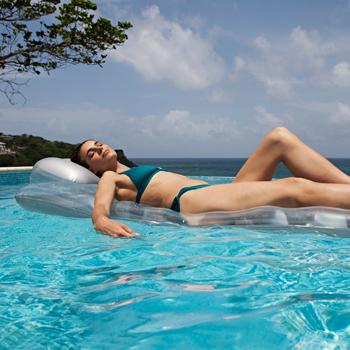 It can be tempting, but if a woman asks to skinny dip in your pool beware that her partner in crime may be robbing your house!
That's what happened last month to a Crossville, Tenn. man who claims a man and woman asked to take a naked dip in his pool, and once the woman got in her partner said he was going to the store to buy cigarettes — but he was actually robbing the house while the homeowner was distracted.
Article continues below advertisement
"We've seen numerous distraction methods - asking for help looking for a dog, asking for help with gas for a stranded car and then people come back and find their home was burglarized," Crossville Police Department Detective J.C. Hancock told Good Morning America.
"They just took it a new level using a naked woman."
The incident occurred on June 27 and the homeowner was robbed of nearly $1,000 in jewelry, cash, prescription drugs and a handgun.
"Every time I think I've seen it all, there's something new," Hancock said.
The suspects have not been located.
The homeowner, Stephen Amaral, 54, told WKRN in Nashville of the 30-something woman, "I escorted her outside and invited her to church, but she said she didn't have time for that, she wasn't ready for that."
"They cleared me out and I just feel violated," he said.
The investigation is ongoing.