Exclusive
Mystery Surrounds Case Of Teen Found Dead In Road, Dad Says Arrests Are Imminent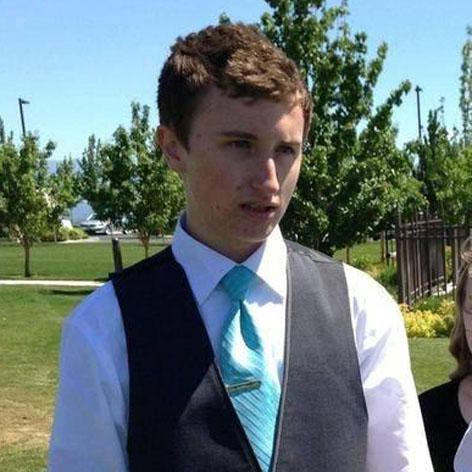 A teenager who was found dead in the middle of the road may not have died from being hit by a car and RadarOnline.com has exclusively learned that authorities are preparing to make arrests in the death that has become a mystery about the teen's final hours, his friends and a late-night party.
Nathan Tyler Haun, 17, was found on a rural road in Utah, near Salem and Payson, by a woman who was driving home at 5 am on Saturday, July 15. His father has come forward to tell RadarOnline.com that he believes Nathan was killed on purpose.
Article continues below advertisement
The Utah State Coroner's Office said that Nathan suffered "very extensive trauma," and ruled that he was hit by a car.
Preston Haun, Nathan's father, told RadarOnline.com exclusively that he does not believe his son's death was from a random hit-and-run accident and that he believes he knows who is responsible.
The police have said the teen's death happened sometime from 2 am and 5 am and that Nathan had been at a party drinking with friends Friday night, according to the Deseret News.
"I honestly believe that he was run over by someone at the party," Preston told RadarOnline on Monday when reached via phone.
"I believe he was run over on purpose. There were no skid marks. It was like he was hit and they kept on going."
Preston said that the circumstances of his child's death are suspicious. "Even if it was an accident, nothing matches up."
He said that he has heard that his son was "talking to a girl and maybe there was an argument with people he didn't know, or people he had only known for a few hours."
Article continues below advertisement
Preston told RadarOnline.com that he believes kids that know about Nathan's death are not coming forward.
"There are friends that are not talking. There are parents that have lawyered up and the house where the party was, where the parents were giving the kids alcohol, have hired lawyers too."
In a statement before the autopsy the police said they are were not ruling out that Nathan's death was more than just an auto-pedestrian accident.
"At this time the sheriff's office is not prepared to state what that evidence is or what other considerations are being investigated," the statement said.
Rumors have been rampant online, with one friend writing an accusatory note about Nathan's death
"How sick are you? To kill someone over something soooo stupid as that. You're a low person. I hope you burn in hell," the person wrote.
Preston said that he believes that there will be warrants issued and arrests in the death of his son over the next 24 hours.
"I am 99 percent sure I know the identities of the people involved in Nathan's death. We want to know what happened to our son and why," he told RadarOnline.com.
A memorial fund has been set up for Nathan Haun at the Spanish Forks Wells Fargo.