Vanished: Cops Press Investigation Into Missing 15-Year-Old Who Left Cellphone Behind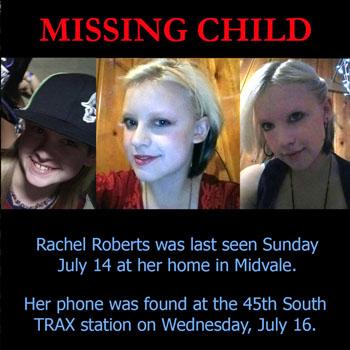 Police are searching for a missing teenage girl whose cell phone has been found but she was last seen at her Salt Lake City home and RadarOnline.com has exclusive details about the investigation and what her family is doing to help locate their daughter.
Rachel Roberts, 15, disappeared after leaving her home in Midvale, Utah early on July 14. .
She has platinum blonde hair with black highlights, blue eyes with gold rings around the pupils, is 5'3" tall, weighs about 100 pounds and doesn't have any tattoos.
Article continues below advertisement
Rachel also reportedly suffers from asthma and her family is concerned that she may have a serious asthma attack.
Disturbing news was reported by Rachel's family, who said her cell phone was found at the Murray North (4500 South) TRAX light rail station on July 16 according to the Facebook page dedicated to helping find her.
Her father Christian Roberts spoke exclusively with RadarOnline.com about his missing daughter, saying that he is working with the police to track down Rachel and talk to the people who saw her last, including a 24-year-old man.
"She was grounded because she had been brought home by the police at 3 am the night before for being out after curfew. So she went to bed Saturday night early and I didn't notice until the next day that she was missing. I checked her phone records and she was texting back and forth all night long. It turned out she was texting with some small time criminal in the local community and he encouraged her to leave, so she met him and a group of people in a local park."
Article continues below advertisement
He said that the 24-year-old guy had met his daughter in the park but the police broke up the gathering, and his daughter left the scene.
Mr. Roberts told RadarOnline.com that the guy "claimed he found her phone and he returned it to me." He said this guy is known as a "phone wizard" and he thinks his daughter gave the guy the phone so he could turn off the family tracker he had placed on the phone.
According to Mr. Roberts, the local authorities have tried to speak with the man but they have told Rachel's father that the three times they have attempted to talk to him he has not been at the address where they believe he may live.
REPORT: Six Years Later: New Hope For Missing Madeline McCann As Controversial Case Is Officially Reopened
The Unified Police Department have said that they are investigating Rachel's disappearance but they currently see indications that point to her being a runaway according to the Salt Lake Tribune.
Article continues below advertisement
Impassioned pleas are written on the Find Rachel Facebook page, with her family asking her to please reach out if she is able to do so.
"Rachel if you are watching this page, please understand that you won't/can't get the kind of care you need out in the wild on your own. We are worried. What's going to happen if you get another massive asthma attack?" her family wrote.
The Facebook page also said they were thankful for the help of the authorities.
"Sadly, there are 1200 such cases per year in Salt Lake County - so they are averaging over three new cases per day, every day, all year long. It takes something spectacular like an eyewitness account of someone dragged into a car kicking and screaming to get a more significant response.
"That being the case, I am glad of whatever assistance we can get—and even more glad we don't live somewhere where we would get a shrug and/or a demand for a bribe."
Article continues below advertisement
Rachel's dad says that he doesn't think "anyone is holding her."
"That is terribly unlikely," he said.
"I hope that she is hiding out with friends, camping out and just being stubborn. Trying to prove that she can make it on her own and that she doesn't need the restrictions that I've given a teen age girl."
Christian Roberts said that there have been sightings of his daughter around town but none of the leads have led to them finding or speaking with her.
Anyone with information about Rachel Roberts may contact the Unified Police Department at UPD at 801-743-7000.