Michelle Duggar Calls Abortion 'Baby Holocaust'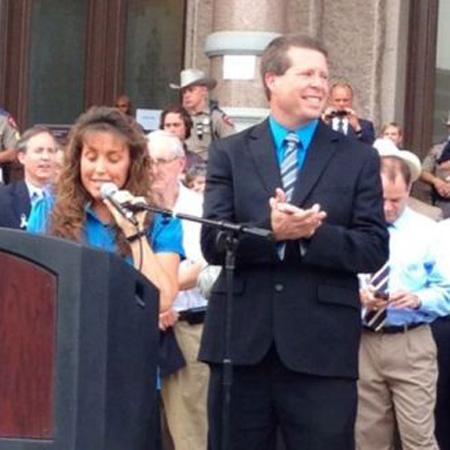 Michelle Duggar weighed in on the Texas legislature's debate on Monday regarding laws that seek to restrict abortion in the state, telling a crowd that she considers the medical procedure "baby holocaust."
The conservative Christian star of the hit TLC reality show 19 Kids and Counting told a pro-life crowd in Austin that she is against abortion and likened it to Hitler's attempted eradication of the Jewish people during World War II.
Article continues below advertisement
Jim Bob Duggar's wife spoke while her oldest son Josh held her youngest daughter Josie in his arms.
She called abortion "baby holocaust" according to Jason Whitley, the Senior Reporter at WFAA-TV Channel 8 in Dallas/Fort Worth.
Michelle, a mother of 19 who is an outspoken advocate in the pro-life movement said that elected officials who are pro-choice need to be replaced.
"If those who are voted in do not support life, then they need to be replaces by those who do," she said, the San Antonio Express reported.
The Duggars are no strangers to politics, in the 2012 presidential race they campaigned for Rick Santorum, who Jim Bob told RadarOnline.com was their choice because of his pro-life stance.
"He's a family values candidate with a proven track record. He honors life and stands up for what is right," he said.