Remini's Sister Drops Bombshell: Scientology Turned On Leah After She Questioned Tom Cruise's 'Weird' Relationship With Church Bigwigs!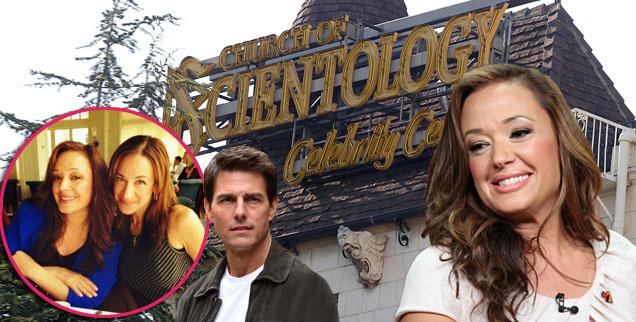 Leah Remini's sister Nicole dropped a bombshell about the events that have led to the star's defection from Scientology, saying that the King of Queens star questioned Tom Cruise's "weird" relationship with church bigwigs! Once Leah did that, her own best friend turned her in to church officials, Nicole claimed.
Nicole Remini shed light on how and why her sister's relationship with Scientology soured, leading to the star's recent high-profile departure from the church. Nicole's coments came in a blockbuster interview with Twin Cities radio station My Talk 107.1.
Article continues below advertisement
Leah's problems all started at Cruise's 2006 wedding to Katie Holmes where Remini witnessed what Nicole called "inappropriate" behavior that shocked Leah.
But what really got the church's attention was when Leah questioned Cruise, Scientology's biggest star, and his "weird" relationship with higher ups.
"You know the funny thing is you start questioning things that are connected to Tom, things getting a little crazy," Nicole said in the radio interview with myTalk 107.1 on Monday.
When asked about Tom bringing the head of the church on his honeymoon with Holmes, Nicole said: "Yeah, they have a very strange relationship, and you know, one of the things, you know, when Leah came back from the wedding, you know, whatever happens, happens.
"Leah had brought up to a very, very close friend of hers out of the house, like in private... 'You know, I just think that it is really weird how involved Tom is with the upper levels of the Church.' Like what, she just started questioning a little bit like, what was going on.
Article continues below advertisement
"And just kind of the amount of, how do I, I just need to say this right, how involved he was with the upper level people.
From Thetans to Xenu! Seven Things You Didn't Know About Scientology
"And somebody actually wrote a report on her -- her best friend wrote a report on her that she questioned it.
"Well then Leah got pulled in it's like how dare she question what is going on with Tom and his relationship with people within the church."
In a statement responding to Remini's sister's statements, the church told Radar: "The statements by Ms. Remini-Wiskow are absurd. Considering how big a wedding it was and her sister's comments published in the media about what a good time everyone had, it is pretty unbelievable this is the story being told. Further, she hasn't been in the Church since 2005, has no personal knowledge of any events described and knows firsthand that her own sister did not "disconnect" from her. Contrary to myths spouted by... anti-Scientologists, the Church cannot and does not "order" any parishioner to disconnect. Such a decision always has been and remains a deeply personal choice made entirely by the individual. This has been spelled out clearly on our website for years."
Article continues below advertisement
Audio from interview on myTalk 107.1 Radio/Lori and Julia Show:
https://media.radaronline.com/brand-img/wp-content/0x0/2013/07/1373947138-nicole_remini_loj_interview_excerpt_1..mp3
https://media.radaronline.com/brand-img/wp-content/0x0/2013/07/1373947867-nicole_remini_loj_interview_excerpt_2.mp3
https://media.radaronline.com/brand-img/wp-content/0x0/2013/07/1373948350-nicole_remini_loj_interview_excerpt_3.mp3
https://media.radaronline.com/brand-img/wp-content/0x0/2013/07/1373948898-nicole_remini_loj_interview_excerpt_4.mp3
https://media.radaronline.com/brand-img/wp-content/0x0/2013/07/1373949100-nicole_remini_loj_interview_excerpt_5.mp3