Report: Kris Jenner Tells Kim Kardashian & Kanye West, Don't Get Married!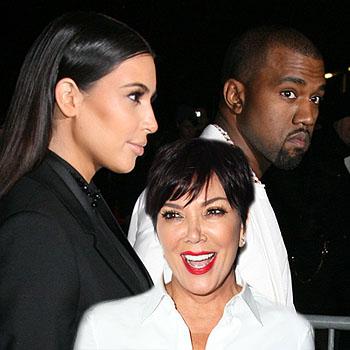 Kim Kardashian's divorce from Kris Humphries is final and she just gave birth to a baby girl with Kanye West, but momager Kris Jenner is reportedly telling the couple to slow down and not get hitched any time soon.
According to a new report, Kris doesn't want to tarnish the Kardashian brand with another possible marriage failure.
"Kris is encouraging the couple to NOT get married," a family friend told Naughty But Nice Rob.
Article continues below advertisement
"After Kim's last, 72-day marriage, Kris feels like the Kardashian brand does not need another marriage disaster on its hands. She is telling them to take their time, to really think about it. A third divorce for Kim, is not something Kris wants for her daughter or her family business."
The source adds that Kim's family is worried she looks to marriage for her happiness.
"There is no doubt that everyone in the family wants to see Kim happy, but at the same time they are assuring her that she doesn't need to be married to find happiness," the insider said.