Exclusive
Jennifer Lopez Was Paid $1.5M To Perform For Turkmenistan's Dictator: Source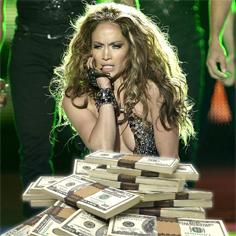 Pop star Jennifer Lopez pocketed at least $1.5 million to sing "Happy Birthday Mr President" for Turkmenistan leader Gurbanguly Berdymukhamedov on Sunday, a source told RadarOnline.com.
Controversy erupted when it emerged J.LO had performed at a $2-billion Caspian Sea resort in the Central Asian state, which has been described as "one of the world's most repressive" regimes because of its dismal human rights record.
Article continues below advertisement
Amid the public backlash, Lopez publicist went into damage control on Sunday and issued a statement declaring "had there been knowledge of human rights issues of any kind, Jennifer would not have attended."
But as RadarOnline.com has learned, the price J.LO could pay is well compensated by her handsome performance fee!
Thought her publicist declined to reveal her price tag, a source close to the 43-year-old singer said her "private, one-off fee rate is $1.5 million non-negotiable, plus private jet and hotel for her and her entourage."
Said the insider: "She would have pocketed at minimum $1.5 million for this gig. Once expenses are included, this gig could have run closer to $2 million."
Lopez is believed to be the first major Western star to visit the isolated former Soviet republic.
Human rights have activists were swift to criticize the star for singing at the event, to mark the 56th birthday of Berdymukhamedov.
"Lopez obviously has the right to earn a living performing for the dictator of her choice and his circle of cronies," Human Rights Watch president Thor Halvorssen said in a statement.
"But her actions utterly destroy the carefully crafted message she has cultivated with her prior involvement with Amnesty International's programs in Mexico aimed at curbing violence against women."