Jennifer Lopez Gives Birthday Performance For One Of World's Worst Dictators, Now Says She Didn't Know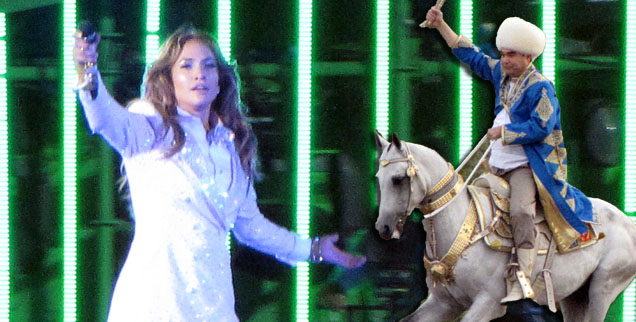 Jennifer Lopez - meet Google and Bing and Yahoo.
The singer performed in Turkmenistan on Sunday, singing happy birthday to the country's dictator, Gurbanguly Berdymukhamedov.
Big problem with that. Berdymukhamedov leads a government considered one of the most oppressive in the entire world.
"Lopez obviously has the right to earn a living performing for the dictator of her choice and his circle of cronies, but her actions utterly destroy the carefully crafted message she has cultivated with her prior involvement with Amnesty International's programs in Mexico aimed at curbing violence against women," Human Rights Watch president Thor Halvorssen in a statement.
Article continues below advertisement
The CIA's own World Factbook says that Turkmenistan "displays authoritarian presidential rule."
It is "one of the world's most repressive countries," Human Rights Watch has been reporting for more than a year.
The performance was organized by China National Petroleum Corporation, which does business with Turkmenistan, and the Lopez camp described it as "a private corporate event."
The former American Idol judge even tweeted on her arrival, asking all her Turkmenistan fans to sign on. Problem is Turkmenistan blocks Twitter, and JLo's tweet was later deleted, reports the Daily Mail.
Lopez' peeps have now issued an apology, well sort of.
She would never have performed in Turkmenistan if she'd only known.
"Had there been knowledge of human rights issues any kind, Jennifer would not have attended," her rep said in a statement.