Exclusive
Catching Up With Jake Pavelka: 'I Don't Regret Going On The Bachelor At All'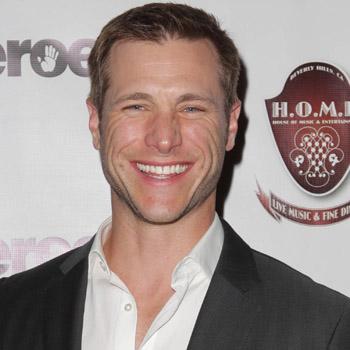 It's been more than three years since Jake Pavelka appeared on television screens across America as The Bachelor — but neither the distance nor a devastating breakup from his fiancée Vienna Girardi has kept Jake out of the spotlight.
RadarOnline.com caught up with the former Bachelor and Jake had a lot to share about where life has taken him since exiting the show in this exclusive interview.
Radar: What have you been up to since leaving The Bachelor?
Article continues below advertisement
Pavelka: I'm extremely fortunate. I still work in the business. I'm still under contact for a bunch of projects. I almost can't remember their names off the top of my head anymore.
Radar: Are you currently filming anything right now?
Pavelka: I just wrapped a reality show in New York for a big network. It comes out in January. They have not announced the cast, so I can't say anything.
Radar: Do you like being part of the reality TV world?
Pavelka: Some parts of it. I get offers to do projects all the time, but I feel very blessed to be able to kind of hand pick some of the better ones.
Radar: What are the negatives of reality TV?
Pavelka: You don't really have any anonymity. You walk around and everybody knows who you are. They know your story. They think they know you, but I don't take it too serious. We're not curing cancer.
Radar: What is different about your life since leaving The Bachelor?
Article continues below advertisement
Pavelka: I'm still the same guy. My life really hasn't changed. I didn't go out and buy a Ferrari and all of this stuff. But since then, I began another career. I develop commercial real estate. That's probably something nobody knew about me that I do venture capital investments and commercial real estate.
Radar: Are you still flying too?
Pavelka: Absolutely. Flying is my passion and hobby. I just love flying airplanes.
Radar: Do you ever help any of your friends out with your business knowledge?
Pavelka: Some of the people that I've done reality shows with come to me for investment advice. "Where do I put money?" I just give them like, "Well, we're developing a shopping center. I can you write you in as an investor."
Radar: What was Chippendales like?
Pavelka: It was last year. I didn't take my clothes off. I was just the host. I stayed clothed the whole time. Oh gosh it was fun!
Article continues below advertisement
Radar: Did you ever get embarrassed being around those shirtless men?
Pavelka: Not at all. They have fun with it and they entertain people. They are really just great guys. Talented.
Radar: Do you stay in touch with anyone from The Bachelor or Bachelorette?
Pavelka: I stay in touch with Sean Lowe and Kypton Locke. I'm Facebook friends with Tenley Molzahn, Jason Mesnick, Molly Mesnick, Jackie Gordon and Michelle Money.
Radar: Do you ever talk to Vienna anymore?
Pavelka: No. No. There's not a point. No reason.
Radar: Do you buy into The Bachelor exclusive club idea?
Pavelka: Not really. Being on The Bachelor is nothing more than something unique to talk about at a dinner party. But I hear of castmates that go around and brag about it and who get offended when someone doesn't know who they are. My advice: Get a life!
Radar: Any advice for current Bachelorette Desiree Hartsock?
Article continues below advertisement
Pavelka: Keep your relationship out of the media as much as you can (unless she wants a career in Hollywood).
Radar: Do you have any regrets about going on the show?
Pavelka: When I meet a girl, they have a preconceived notion of who I am — and most people from The Bachelor get labeled as players. They don't cast players to be the main guy. The players are typically the 25 contestants that make up the show really unique and edgy. There's a place for that, but that's not typically the leading guy or the girl. But I get stereotyped that way. They probably think I have a thousand girlfriends who I am sleeping with, and as a matter of a fact, I'm not dating or sleeping with anybody.
Radar: You're single?
Pavelka: I'm single! Single and loving it.