Exclusive
I've Been Kicked To The Curb: Ex-Lover Of 'To Catch A Predator' Host Chris Hansen Blasts TV's Double Standards -- As Photo Proof Of Affair Emerges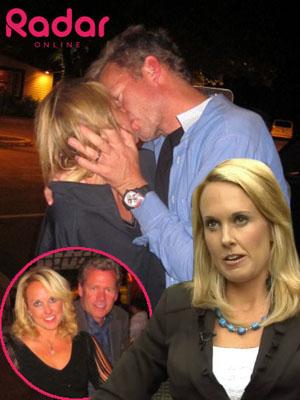 The former mistress of handsome newsman Chris Hansen is breaking her silence with her first video interview, speaking out about the double standard against women she says exists in broadcast television. She's also provided photographic proof of her romantic relationship with Hansen -- and RadarOnline has the exclusive.
In the candid interview, she also says that if she can't work because of their affair, then Hansen also should not be allowed to work.
Article continues below advertisement
Kristyn Caddell, a former on-air reporter, has worked at two stations since she was outed in 2011 as the Dateline NBC star's secret lover, but has not been able to hold down any of the gigs with the shadow of the Hansen affair looming over her.
"No matter what your philosophy is on someone who has an affair, if it was the man or the woman's fault, there are two people involved and if I can't work, he should not be able to work," Caddell, 32, told RadarOnline.com in an exclusive sit-down video interview.
"I have lived the double standard," she added. "A double standard is an understatement as to what happens in this industry. The women get fired and the men keep going."
Caddell, then a news reporter at NBC affiliate WPTV, met the 54-year-old father-of-two NBC correspondent in a Palm Beach, Fla., bar in March two-and-a-half-years ago.
She says he led her to believe his 20-year marriage to wife Mary Joan was on its last legs, so he was free to date other women.
Article continues below advertisement
What happened next was a steamy four-month affair, during which Hansen flew her all over the country and the pair stayed in luxurious hotels.
"I believed him with my heart," Caddell said.
"You can say I was naïve, as it was. That was my biggest crime, being naïve. There are plenty of people who in this business who have committed crimes who are still on TV… I make one personal mistake and I am (considered) a worthless human being."
Caddell supplied RadarOnline.com with three photos of them together -- a move that is likely to jolt Hansen's long-suffering wife and cast serious questions over his past denial.
Until now, all two-timing Hansen -- best known for catching Internet sex perverts on To Catch a Predator -- had said about the affair was that the reports were "full of hurtful lies."
"I understand the perceived irony of the, you know, so-called 'gotcha guy' getting gotcha-ed," he said in a March 2012 radio interview. "But what the 'gotcha guy' got gotcha-ed doing was going out to dinner."
Article continues below advertisement
Hansen may have to explain this, then: In one of the exclusive images, the cad is snapped passionately kissing Caddell on a public street. In another, the attractive blonde is gazing up at her lover as they posed for a photograph on a boat. A third image shows the pair dining at a restaurant.
Charged his ex-mistress: "I was misled. I believed him and I cared about him, on top of all of that."
After "taking the high road," Caddell said she she's come forward to RadarOnline.com in an attempt to publicize the hypocrisy of broadcast news and "The Scarlet Letter" she said she's worn since the illicit romance was exposed.
After working at a Seattle, Wash., station, Caddell moved to NBC affiliate KSNV-Channel 3 in Las Vegas, Nev., where she worked until recently quitting.
She said she was told to move to smaller markets and start her career over because of the scandal.
"That's the problem. You have these men who are rich and powerful, who are in these positions, not just Chris, look at Elliot Spitzer and Anthony Weiner," she said.
Article continues below advertisement
"You have all these men who can go through a scandal and come out on top. Then you have a woman… who is kicked to the trenches."
Caddell added: "For the past two years, I was told that it would be in my best interests not to say anything. Let it blow over. Just keep trying to truck along and keep trying to get jobs.
"But we are here two years later and I probably don't go a day without an employer tell me they do not want to hire me because of the situation involving Chris Hansen.
"I thought by not saying anything and Chris advised me that it would be in my best interest not to say anything that I would continue to go and and my life would go back to normal. My life has been the exact opposite of that."
She got tearful when asked to explain what her life was like, today.
"I am here," Caddell said, before breaking down.
"I started in this business as a photographer. I didn't have any connections. I did not know anybody. In fact, I had numerous people who said I probably would never become a reporter.
Article continues below advertisement
"I moved out to California.. to make it in this business, like so many journalists do. You do what you have got to do. That is what I did. I traveled around the country and made every sacrifice I could possibly make to get somewhere, to become a reporter.
"When I finally got back to West Palm (Beach), I felt like I made it.
"Then, to essentially get taken down, because of a man, who has a lot of money and a lot of fame, it is not a good feeling. That is what happened to me."
radar_embed service=5min.com src="http://pshared.5min.com/Scripts/PlayerSeed.js?sid=1126&width=570&height=351&playList=517858285&sequential=1&shuffle=0"