Exclusive
Charlie Sheen NOT Cutting Off Brooke Mueller's Child Support Payments, But He's Looking To Cut Her Back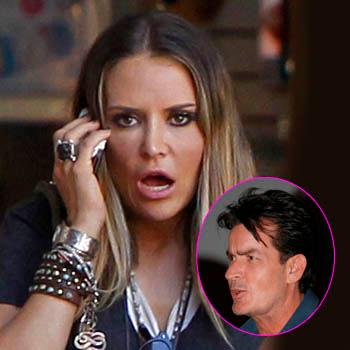 Despite media reports that Charlie Sheen was seeking to cut off Brooke Mueller's monthly child support of $55,000, sources close to the situation tell RadarOnline the Anger Management star is not looking to end payments but is seeking to reduce the amount to his ex-wife and baby mama to twin sons, Bob and Max.
Sheen's family law attorney, Mark Gross, filed legal docs in court this week "that are asking the judge to reduce the child support payment to Brooke at this time, since she doesn't have custody of the boys and is currently in rehab. It's a child support modification request. Charlie doesn't want to completely cut her off, and doesn't want to kick her when she is down. However, he doesn't think it's fair that he should pay the entire $55,000," a source told RadarOnline.com exclusively.
Article continues below advertisement
Before retaining custody of Bob and Max, who are temporarily being cared for by Denise Richards, Mueller will have to submit to random drug tests, attend parenting classes, and agree to monitored visitation of twin sons.
The Los Angeles County of Department of Children & Family Services "has prepared a laundry list of things Brooke must do before the agency can sign off on her retaining custody of the twins. After Brooke is formally discharged from her rehab facility, she must immediately give her contact information to a drug testing company. She can expect to be randomly drug tested at least twice a week," a source previously told us.
MORE ON:
Celebrity Justice
Charlie's former wife and baby mama had her kids taken away from her by the Department of Children and Family Services because of the unsafe environment her drug use created, and Denise was subsequently awarded temporary guardianship of the boys.
Meanwhile, Mueller "is going to absolutely fight Charlie's attempt to reduce the child support. She feels that Charlie just wants the kids taken away from her so he won't have to pay her anymore," a source told us.