Exclusive
Beyonce's Stoner Sister Solange Encouraged Drug Use Days Before Canceling Her European Tour Citing 'Mental And Physical Health' Reasons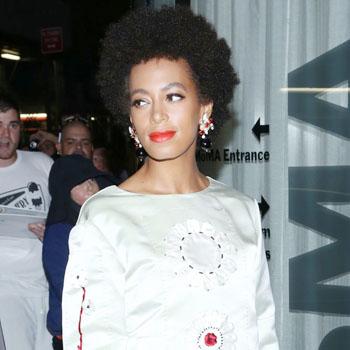 Fans were shocked when Beyonce's sister Solange Knowles cancelled her European summer tour, seemingly apropos of nothing.
She said in a statement on her website, "I am completely devastated … I really had to make the best decision for my mental/physical health and provide some stability for my family."
Solange claims the stress of moving from Los Angeles to Brooklyn caused her to skip out on the dates in nine European cities, but RadarOnline.com has learned that her fondness for marijuana raised eyebrows in the days before her announcement.
Article continues below advertisement
Solange gave a shout-out to the stoners in the audience during her performance at the Pitchfork Music Festival on Saturday, July 20, according to multiple eyewitness reports, telling the crowd: "I smell a little bit of herb out there. If you have any, now is the perfect time to light it!"
Eyewitness @RumanaHussain tweeted, "#Solange urging the kids to smoke herb …What is she? The anti-@Beyonce? Ganja fierce?"
Solange reportedly made a similar statement at her show in NYC's Bowery Ballroom in December of last year.
Indeed, Solange has made no secret of her marijuana use in the past. In 2008, she released an ode to Mary Jane called Champagne Chronic Nightcap. When asked whether the descriptions of lighting up in the song were true-to-life, she told a reporter, "I am unapologetic. I don't write about things unless they're true!"
Article continues below advertisement
By the next year, she was concerned her drug use was taking a toll on her mind. "I don't even smoke weed that often but I'm finding that I can't remember things," she tweeted on Sept. 1, 2009. "Gotta be something else."
In 2010, she admitted to smoking "a joint or two" while recording.
And by 2011, she was even less ashamed of her habit, posting on Twitter in October desperately looking for a dealer. "Is weed taboo in NYC?" she asked her followers. "Like, why can't I ever find any?"
There is no indication that Solange's drug use is tied to her mysterious month-long break. She insists she will be focusing on mommy time with her son, Daniel Julez.