Exclusive
Bethenny Frankel Wants To Limit The Time Daughter Bryn Spends With Her Grandparents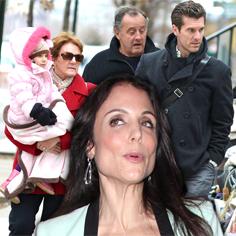 Bethenny Frankel is moving to limit the amount of time her three-year-old daughter Bryn spends with soon-to-be-ex-husband's parents, RadarOnline.com has exclusively learned.
The former reality star turned chat show host thinks Bob and Carole Hoppy, the parents of Jason Hoppy, have been talking negatively about her in front of Bryn, a source reveal.
Now, the 42-year-old is going to ask the judge overseeing the ex-couple's contentious divorce proceedings "to limit the time that Bryn spends with her grandparents."
Article continues below advertisement
The source told Radar: "Bethenny doesn't like it when Jason's parents come to visit Bryn and Jason in the apartment because she feels like they are spying on her. During the time that Bethenny and Jason were married, she didn't believe his parents accepted her. She felt judged by them, even though Bob and Carole embraced her with love from the beginning."
Staggeringly, both Bethenny and Jason are still living together in the New York City apartment they once shared as a happily married couple.
The latest divorce drama has transpired in the wake of Frankel calling Hoppy "trash," during a recent argument which Bryn witnessed.
As we previously reported, the epic argument occurred after a recent court date for the couple, which has been unable to reach a financial and custody agreement.
Frankel was pushed to the brink and begged Jason to settle with her, a source revealed. When Jason refused, "Bethenny became enraged and called him trash in front of their daughter, Bryn," the insider said.
The argument caused Jason's lawyer to file documents in the ongoing custody dispute over Bryn.
Hoppy recently told Frankel, via their lawyers, that he didn't want Bryn to appear on her upcoming talk show.
Meanwhile, Hoppy is "vowing that his parents won't be cut out of his daughter's life," according to our source.
"Bob and Carole absolutely love and adore Bryn. She is the light of their lives and they are like any other typical doting grandparent. They would like to see Bryn more, but hope in the future, that will change."