Exclusive
Arrivederci! Teresa And Joe Giudice's Italian 'Great Escape' Plan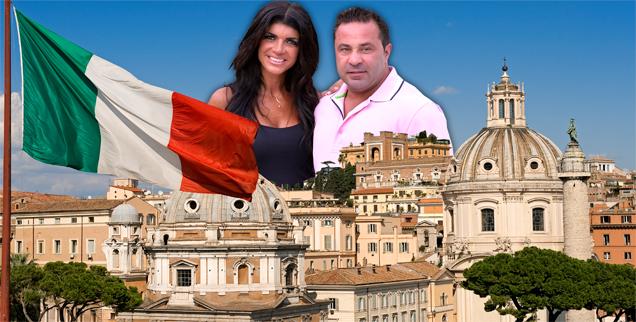 When Teresa and Joe Giudice made bail on Tuesday morning, the reality television couple had to surrender their passports and promise not to leave New Jersey or New York.
Now, a source close to the case tells RadarOnline.com that the feds were smart to impose limits on their travel, because Joe and Teresa could have been planning a "great escape" to Italy.
Joe, an Italian citizen, does not have a U.S. passport, despite having lived in the U.S. for most of his life!
Article continues below advertisement
Monica Chacon, an attorney who worked to win a judgement against Joe for fraud in 2007 says, "My only guess is … maybe his whole not having a U.S. passport thing would be an easy way for him to escape at some time."
Chacon reveals, "One of my clients always used to say that they had a lot of money hidden in Italy." Joe and Teresa's families are from the same village in Italy, and they have made visits back to the homeland on-camera for RHONJ.
In fact, that's where they could end up. Since he is not a U.S. citizen, Joe faces deportation back to Italy if convicted of any of the 39-counts of fraud that he and Teresa face.
tiest Fights EVER On Real Housewives
"I assume immigration is on top of it," Chacon says. "You don't need to be a citizen in order to pull off fraud!"