'Inconsolable' Amanda Bynes Hoping To Reunite With Pet Dog During Psych Ward Stay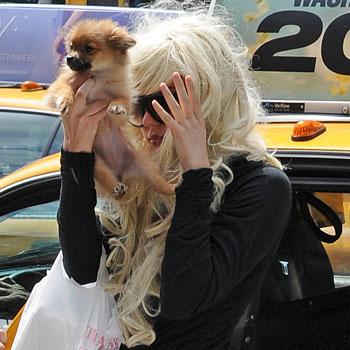 Troubled ex-Nickelodeon star Amanda Bynes was "almost inconsolable" when she realized what she did to her pet dog and has asked doctors for special permission to reunite with the Pomeranian pooch, RadarOnline.com has been told.
Last week, the Hairspray actress was detained and placed on a mental health hold after igniting her pant leg while setting a small fire with a gas can in the driveway of a Thousand Oaks, Calif., home.
Article continues below advertisement
She also walked into a liquor store with the dogs in her arms, where she tried to rinse her gasoline soaked pooch in a back-office sink.
Bynes, 27, is said to be heartbroken at her actions, a source said.
Since being placed on a involuntary psychiatric hold at a mental health facility in Ventura County, Calif., "Amanda has been taking medications as prescribed by her doctors. With that, her thinking is becoming much more clear and concise.
"Amanda is fully aware that she accidentally caused her Pomeranian puppy to be mildly burned in the fire."
The puppy was treated for the burns and is being cared for by Bynes' parents and is expected to make a full recovery.
Said the source, "It's truly sad because Amanda just loves animals and she was almost inconsolable when she realized what she did to her dog. She would never intentionally hurt or harm any animal."
MORE ON:
Celebrity Justice
Article continues below advertisement
As we previously reported, Bynes is still talking to her mother, Lynn, despite her attempt to gain a conservatorship of her troubled daughter.
Last Friday, Judge Glen Reiser ordered a full investigation before ruling on Lynn's petition to become Bynes' conservator.
The judge determined that there was no need to grant a temporary conservatorship because the What I Like About You star will remain in a hospital for another two weeks.
The judge also wants to speak to Amanda in person and set another hearing for August 9.
"Amanda has been asking her mother to bring her dog to the hospital to visit her," the insider told Radar.
"The policy of the facility is to not allow non-service animals on the premises, but her doctors are contemplating allowing her to remain on the hospital grounds with supervision and visit with the dog outside.
"The visit would be very, very controlled and supervised."