Exclusive
Who Pulled The Trigger? 10 New Developments In The Aaron Hernandez Murder Case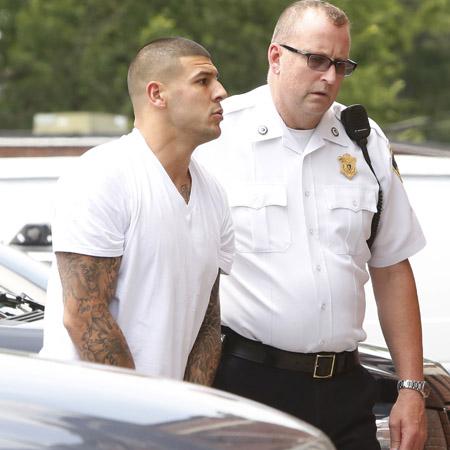 Who pulled the trigger?
That is one of the greatest remaining mysteries in the tragic, execution-style murder of Odin Lloyd and if prosecutors think it was ex pro football star Aaron Hernandez they have not yet made that allegation public. But they may have someone who will answer that question definitively for them.
Two other men have been arrested along with Hernandez, who is behind bars without bail, facing first-degree murder charges. And as the case speeds along, RadarOnline brings you the 10 latest developments.
Article continues below advertisement
1. Ernest Wallace, 41, is scheduled to be arraigned Monday on charges related to Lloyd's death. Prosecutors say he was one of two men with Hernandez who picked up Lloyd and drove him to an industrial park close to the pro star's home, before Lloyd was shot to death. They also say Hernandez texted Wallace to get over to his home that night. It is not yet known how Hernandez, 23, is connected to Wallace.
2. Prosecutors are presenting their case before a grand jury and have put forth much circumstantial evidence but stopped short of saying who pulled the trigger on the murder weapon, which is believed to be a .45 caliber Glock. Hernandez was seen on video surveillance footage holding a similar gun.But someone close to Hernandez in this case is talking to cops and the answer is likely to come from that person...
Article continues below advertisement
3. Carlos Ortiz, also charged with Hernandez and Wallace, has apparently flipped on Hernandez and is cooperating with authorities. He led them to the secret "flop house" – an apartment Hernandez maintained. A shirt Hernandez was allegedly wearing the night of the murder was found there along with .45 caliber ammunition and other potentially incriminating items. Eleven boxes of ammunition were found.
4. More reports are surfacing that prosecutors and police believe Lloyd was murdered because he knew something about a 2012 drive-by murder, which Hernandez is now being looked at in an attempt to link him to it. Two people were killed and one wounded in that incident.
5. Alexander Bailey, 33, will be put in front of the Hernandez grand jury. Bailey says Hernandez shot him in Florida. At the time of the shooting he did NOT tell police it was Hernandez but since then has obtained a lawyer and insists it was the former New England Patriot.
Article continues below advertisement
6. Hernandez's coach at the University of Florida, Urban Meyer, at first refused to talk about the case and then reacted angrily to reports that insinuated he had allowed Hernandez to run wild, failing multiple drugs tests. "Relating or blaming these serious charges to the University of Florida, myself or our staff is wrong and irresponsible," he said in a text-message exchange with the Columbus (Ohio) Dispatch.
7. Hernandez never failed a drug test while playing for the Patriots. Even though a search warrant for his secret apartment listed the possibility of cocaine being found, Hernandez was clean in his NFL tests.
8. More than 1,200 people showed up at Gillette Stadium in Foxborough, Mass. this past weekend to exchange their Hernandez jerseys. The team offered a free swap.
9. Ortiz, Wallace and Hernandez are all in the car with Lloyd during his final moments, authorities say, piecing together evidence with text messages, cellphone triangulation and various surveillance cameras. The fact that Ortiz led police to Hernandez's apartment makes it likely he is telling them what went on in the car and who pulled the trigger. Many legal experts say that chances are extremely high Ortiz and Wallace will be offered deal for testimony against Hernandez.
10. Hernandez's fiancée Shayanna Jenkins has not broken her silence publicly. Many questions surrounding her are still unanswered. Did she live at Hernandez's house full time? They just had a daughter together, so were they going to get married? What does she know about Lloyd, as her sister was dating him?