Victoria's Secret Controversy: Regular Sized Women Strip Down To Underwear To Protest 'Unrealistic Body Images'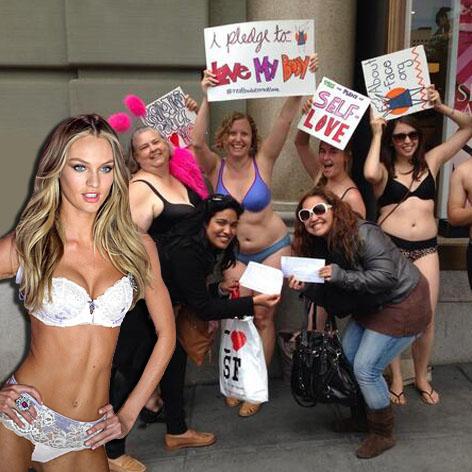 Article continues below advertisement
"Not everybody needs to be like that in order to be attractive, in order to be awesome in general," the Executive Director Jennifer Berger said about their "Operations Real Bodies Real Love."
One guy joined the group and was in his black underwear too.
In front of the San Francisco Union Square Victoria's Secret store the group held up signs that said "I Pledge to Love My Body."
The group says they "represent the public and fight for more accurate bodies in the media."
Victoria's Secret has come under fire for their model's super skinny bodies, and Berger said not everyone has a size zero body.
"And we really wanted to speak out against that whole, that whole piece of it. You know, all the people here really like the way that they look."