Vicki Gunvalson, The Saint? 'I'm A Godly Woman Who Has Moral Integrity'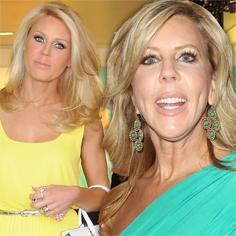 Article continues below advertisement
But even saints fall from grace and Vicki knows that she didn't behave that kindly towards her co-stars while celebrating Tamra's bachelorette party in Mexico.
"We all have made wrong decisions in the past, and the only thing we can do is learn from them," Vicki says. "Life is a lesson, and I feel like I'm back in second grade attempting to continue to soak in all the lessons I can."
While Vicki is continuing to "soak in all the lessons," she clearly hasn't learned to lay-off Gretchen Rossi because the two of them couldn't stop getting at each other's throats during the June 10 episode of RHOC.
"I am not jealous of Gretchen or envious of Gretchen," Vicki claims. "She seems to think I am and I am not."
Vicki continues on her self-righteous campaign, but also hopes that Gretchen will leave her alone.
"I want the best for Gretchen as I do for all of my friends," she says. "I just want her to leave me alone as I have done with her for the past few years."
Vicki adds, "She doesn't take the time to listen to me or hear my side, so there is no point in engaging in a debate with her to try and defend myself."