Exclusive
Toddlers & Tiara's Mom Developing Energy Drink for Children: 'It Calms Them Down'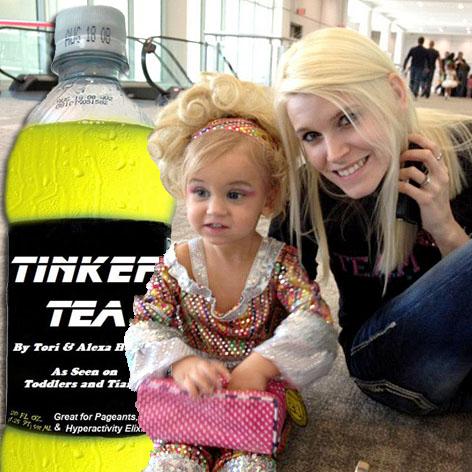 GoGo Juice is so last season.
The latest Toddlers & Tiaras scandal was born last week when pageant mom Tori Hensley was shown on-air giving a mix of Mountain Dew, Sweet Tea and Pixie Stix to her two-year-old daughter, Alexa, before a beauty pageant — and now, Tori is speaking exclusively to RadarOnline.com to defend her parenting, and announce her plans to market an energy drink geared toward children.
Article continues below advertisement
"We were approached to do an energy drink about two weeks after the show aired and we're in the negotiation period with it," Tori confirms.
"We're gonna gear it for pageant kids and dance. And for hyperactive children, to help them."
Tori says, "A lot of studies show that caffeine reverses the effects of hyperactive children. Instead of medications and pills and nasty chemicals, why not give them caffeine?"
For Tori's daughter Alexa, however, Tori's sugary concoction is the key to energetic pageant appearances. "We tried everything else to pep her up and it wasn't working," Tori explains. "So we came up with the mix."
"I've tried it," Tori says. "You know when you're a kid and you'd mix everything at the soda fountain? It tastes like that. Not bad.
The drink's effects on children, however, is not always so fabulous. Toddlers & Tiaras star Eden Wood's former manager, Heather Ryan, tells Radar, "I've been around the pageant world for 20 years, and I've seen the side effects of jacking your kids up on caffeine and sugar. There's so many bad things I've seen to kids who have parents shoving sugar down their throats."
Article continues below advertisement
"Massive tooth decay," Heather says. "Obesity. And then, they crash and they're cranky and overindulged. The parents bribe them to be in a good mood. It's a mad cycle. It's never-ending."
But Tori insists Alexa is perfectly fine with Tinker Tea as part of her diet. "She's totally healthy!" Tori said. "Everyone's all, 'She's going to be a stripper with diabetes!' and that's crazy. She's a normal two-year-old."
And while Tori does admit Alexa is "a popsicle junkie," who plows through several boxes of popsicles a day, "Her regular diet consists of grapes and cheese. Green beans. She loves asparagus."
"Anything green, she'll eat," Tori says. "She loves vegetables and she's always loved them."
But her favorite food growing up? Slim Jims, says Tori, who gave them to her daughter as a newborn.
"Alexa was born with her two bottom teeth," which runs in the family, Tori says. "And as a newborn we'd let her gnaw on Slim Jims. She loved them."
Check out this photo of Alexa around 9 or 10-months old chomping on a Slim Jim:
"She always had her own little quirks," Tori says. And it's only now that they're coming under criticism. But Tori's undeterred.
"We're still doing pageants," she reveals. "She'll continue to do pageants until she tells me she doesn't want to do them any more!"