Exclusive
'Toddlers & Tiaras' Manager Quits Industry, Blames 'Stage Momsters' For Ruining Children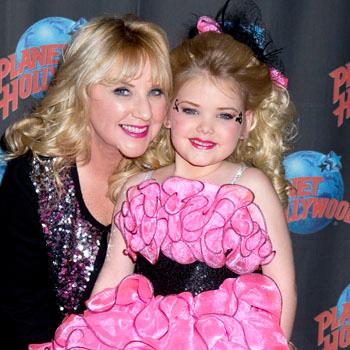 The woman who helped create Toddlers & Tiaras star Eden Wood has quit the child beauty pageant industry, citing "stage monsters ruining the childhood of the young clients" as the reason for her decision.
Heather Ryan, a talent manager from Des Moines, Iowa, who previously worked for Eden, now aged eight, and her mother Mickie, told RadarOnline.com: "I'm done, done, stick a fork in me, done."
Ryan recently accepted a new role working in marketing and communications for a non-profit organization, The Great March for Climate Action -- which she said is "such a better cause to work for than sacrificing childhoods to media wh*re mothers!"
Article continues below advertisement
"I can't wait to work with something more predictable and stable than Pageant Moms, Climate Change!" quipped the turncoat manager.
"I simply can not continue to assist pageant moms in their transformation to stage momsters, consequently ruining the childhood of the young clients for whom I work."
She added, "I also sleep better at night knowing that I am making a positive impact in the world rather than contributing to the blight on the fabric of society."
As RadarOnline.com reported, Ryan -- who at one point had 34 girls on her books -- previously released a tell-all memoir slamming Mickie for cashing in on Eden's fame.
In one chapter titled Music Videos and Fake Philanthropy, Ryan, a mother herself, painted a portrait of Eden being a spoiled brat who had psychotic meltdowns and faked philanthropy.
"Mickie was afraid that Eden would have a psychotic meltdown on camera because the child was not used to doing the 'charitable thing' by giving away toys on her own birthday; Mickie was so worried that Eden would melt down when she realized we were donating all the toys that I collected to children in the hospital, that she was chain smoking like a fiend," Heather wrote.
MORE ON:
Toddlers and Tiaras
Article continues below advertisement
"I gathered several donations from generous friends and went shopping for additional items listed on the Blank Children's Hospital website to make a pretty display of toys for 'Eden to Donate' to sick, hospitalized children, in honor of her 6th birthday. Mickie purchased a bunch of toys for Eden at the Wal-Mart when she arrived in Iowa, so that Eden wouldn't see other children, regardless of their life threatening illnesses, receive toys when she did not.
"I thought it was very shallow and took a teachable moment from Eden's life and cheapened it ­ but I guess that¹s what Mickie considered as her 'contribution to the projects.'"
Ryan parted ways with Eden and Mickie after their show, Eden's World, wasn't picked up for a second season.