Eden Wood's Former Manager Releasing Tell-All Book, Claims Toddlers & Tiaras Star 'Faked Philanthropy'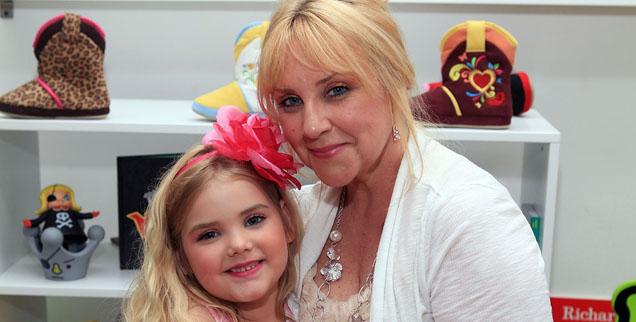 Eden Wood's former manager has written a tell-all book exposing sides of the child star and her 'stage mom' Mickie Wood that the public has never seen, and only RadarOnline.com has exclusive excerpts from the not yet released publication.
Eden, 8, shot to superstardom after she dominated TLC's Toddlers & Tiaras, retiring at the early age of 6 to pursue more avenues of her booming career, but Heather Ryan paints a portrait of a spoiled brat who had psychotic meltdowns and faked philanthropy.
Article continues below advertisement
"Mickie was afraid that Eden would have a psychotic meltdown on camera because the child was not used to doing the 'charitable thing' by giving away toys on her own birthday… Mickie was so worried that Eden would melt down when she realized we were donating all the toys that I collected to children in the hospital, that she was chain smoking like a fiend…" Heather wrote in a chapter titled Music Videos and Fake Philanthropy, explaining a shoot they did on Eden's sixth birthday in which she was to make a large donation to the Blank Children's Hospital in Des Moines, Iowa.
"I gathered several donations from generous friends and went shopping for additional items listed on the Blank Children's Hospital website to make a pretty display of toys for 'Eden to Donate' to sick, hospitalized children, in honor of her 6th birthday. Mickie purchased a bunch of toys for Eden at the Wal-Mart when she arrived in Iowa, so that Eden wouldn't see other children, regardless of their life threatening illnesses, receive toys when she did not. I thought it was very shallow and took a teachable moment from Eden's life and cheapened it – but I guess that's what Mickie considered as her 'contribution to the projects.'
MORE ON:
Toddlers and Tiaras
Article continues below advertisement
"Eden was a true professional and never batted an eye at the fake philanthropy that I forced upon her."
Ironically, Heather is using Eden's former New York City publicist, Andrew Sullivan, to launch her book.
"The book goes into depth about the abuse and fame game that Eden's mother, Mickie Wood has played for the past five years," Andrew told RadarOnline.com.
"It is being released self-published and will debut the first week in April."
Heather also details a music video shoot they did for Eden's single, Cutie Patootie, in which they had no budget so they had to petition fans be in the video for free.
"When Eden returned to Iowa during her birthday weekend, February 18, 2010, I also set up a shoot schedule for her to film her very first music video. Again, I wanted Eden to be the ground breaker for which every other pageant girl aspired. No other girl had a doll, a book, a single, and now a music video," Heather wrote.
"Mickie was absolutely worthless in all things production and creative – not to mention budget. We had absolutely no budget at all for a music video, so I was tasked with, and devised a plan, to create a mall concert scene where people actually showed up – for no pay – and cheered as if they were big fans… Pulling off these tasks were not that easy an undertaking."
Heather claims the book will be full of controversial tidbits on the one-time Toddlers & Tiaras star and her mother, and also promises "a very heavy focus on her father as well."