Tamra Barney: Depression Is The 'Hardest Thing I've Talked About' On 'RHOOC'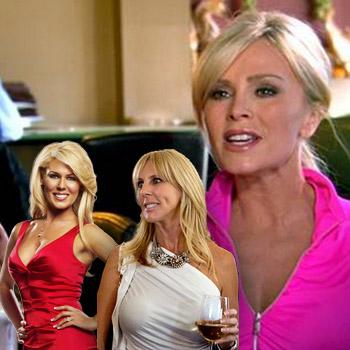 Article continues below advertisement
But in the past, Tamra was afraid to open up to Gretchen.
"As much as I care about Gretchen, she is the type of person that scares me -- not because she is a bad person but its hard for me open up to people sic," Tamra explains. "I really do think we have different types of friends for different reasons."
For example, Tamra maintains a friendship with Vicki Gunvalson because with Vicki, she doesn't have to get emotionally "deep".
"Vicki and I have gone through a lot of the same adult struggles in life and although we talk about them at the time, we really don't know each other deep inside," Tamra says. "I think that is why we are so drawn to each other? We live for the moment and forget about the past."
But at this point, Tamra is trying hard to come to terms with her issues and the past that made her so closed off today.
"Sharing my story about depression has been one of the hardest things I have talked about on this show and something that I was not necessarily even wanting to share," Tamra says. "At the time, I was overly concerned with my son Ryan, who suffers from anxiety and depression, and it brought back so many memories of my own. Seeing yourself through your children's struggles is a very difficult thing to face."
Article continues below advertisement
Tamra continues: "I am not blaming my parents for the way they raised me or referring to myself as a victim. Both my parents had difficult childhoods. My mom's mom was hospitalized most of her life for mental illness and my dad's parents were alcoholics . I love my parents and appreciate everything they did for me. sic"
But Tamra still questions if the way she was raised, pushed her to have such an emotionally rough time as an adult.
"I'm not sure if my parents never saying 'I love you' made me struggle in life or if depression is just hereditary?" she wonders. "What I do know is that I struggled with my own inner demons from a young age -- something that most people would not even understand."
"Most of my life I felt alone and I was sad," she says. "I used my sarcasm to hide behind the pain and didn't let people get to close to me.
Now, Tamra's way of living is finally changing.
"I am finally at a point in my life where I am happy," she states. "I understand why I am the way I am and I'm trying to correct the things I need to change."