Exclusive
Don't Ask, Don't Tell! Storage Wars Execs Using Legal Maneuver To Avoid Admitting Lockers Are Planted With Items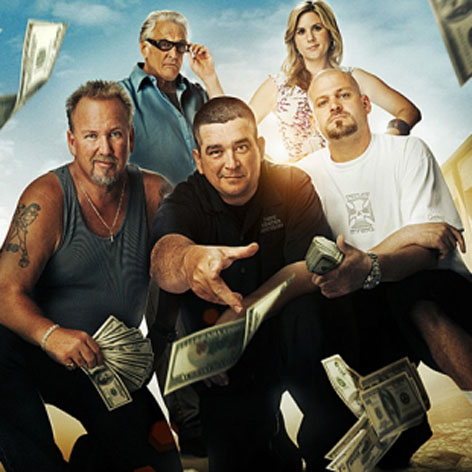 Executives in charge of A&E's hit show Storage Wars are using various legal maneuvers and tactics to avoid admitting the show routinely plants items in storage lockers without telling the audience the show is faked, RadarOnline.com is reporting exclusively.
The revelation that the show is fake was first reported by RadarOnline.com, and when former cast member Dave Hester filed suit against the network and production company his legal papers contained numerous examples of lockers being "salted."
Article continues below advertisement
The network has previously said the show is real and is now doing everything possible to avoid addressing the issue under oath.
"No depositions have taken place in Hester's lawsuit," a source familiar with the situation told RadarOnline.com. "A&E has made it clear they will not answer the question, 'Are the lockers salted?' until they have exhausted every legal tactic they can.
"They are not only trying to get the suit dismissed of course, but also using tactics that amount to a stall. It seems as if they are trying to push answering that question two to three years down the road."
Even in the face of overwhelming evidence that the show is faked, the network has refused to address the issue. And they have millions of reasons to avoid answering: the Storage Wars franchise has been extended to Texas and New York with Florida on the way.
Article continues below advertisement
"They have filed various motions that add up to trying to avoid admitting the lockers are planted with items," said the source.
As RadarOnline.com previously reported, the production company often stopped filming, planted an item in a bought locker and then resumed filming, in front of a crowd!
"Many people have come forward since Hester's lawsuit was filed with stories of how the show was rigged," a source told RadarOnline.com.
MORE ON:
Celebrity Justice
The simple explanation for why items are planted in lockers is summed up in one word: money.
"Sometimes there would be only five units at an auction the cast and crew showed up at," said a source.
"Maybe the auction originaly was supposed to have 15, but 10 people paid up. So now there are only five units and do you think they can find enough interesting and valuable stuff in five units to carry an entire show?
Article continues below advertisement
"They can't. And production executive privately said, 'If it takes us 10 auctions to find enough stuff for an epsidode, instead of just one auction, that's $3 million in costs for one show, instead of $300,000. All we are doing is moving the story along.'
"That's how they rationalize it.
"And the same people in charge of the main show are in charge of Texas, where there are even less valuable items. So what do you think is happening there?"
"Once everything is booked for a shoot they HAVE to find enough items and they can't just rely on chance. So they salt the lockers."
But the network doesn't want to admit it to the public because the franchise is so lucrative.
"They are stalling. They are doing everything they can right now in the current lawsuit to avoid answering this question under oath," an insider tells RadarOnline.com.
"It's clear they won't answer it, won't admit it, until a judge orders them to."