Insensitive Much? Salma Hayek Says She Was 'Completely Disfigured' Just Because She Gained 50 Pounds During Pregnancy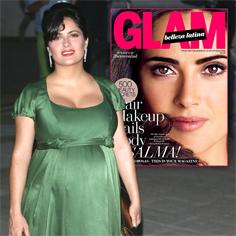 Maybe Salma Hayek should look up the definition of the word "disfigured," before she tosses it around!
The beautiful 46-year-old actress opens up about the pressure to be thin and Hollywood, and how she got the opportunity to see herself "completely disfigured" when she gained 50 pounds during her 2007 pregnancy with Valentina – and RadarOnline.com has the details.
"I gained so much weight, I got an opportunity to see myself completely disfigured in many different ways -- for a very good reason -- and I don't regret it for a second," she said to Glam Belleza Latina. "That's when I started appreciating my body. The things that I used to criticize, they were not that bad after all."
Article continues below advertisement
While disfigured can be defined as "to mar the appearance or beauty of; deform; deface" it certainly isn't used often (if at all) to describe how a woman looks while pregnant!
So perhaps we have a language barrier here. (Let's hope so!)
Hayek managed to drop the baby weight her body returned to normal.
"I did get it back, shockingly," she admits.
"We've got to fight for our confidence every day in modern life because we live in a society that is very harsh to women," she explains about the pressure to be thin. "You have to be smart and successful and a good mother and beautiful and young and skinny forever."
Do you think it's appropriate to use the word "disfigured" when talking about a pregnant women's body? Sound off below.