Exclusive
Family Friend Of Racist 911 Dispatcher April Sims Insists 'She Just Had A Bad Day'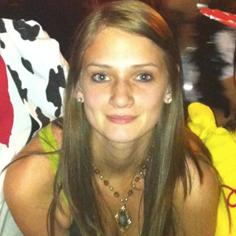 Vile racist or stupid girl? 23-year-old Dallas 911 dispatcher April Sims learned that lesson the hard way when she was fired earlier this week for calling black people "selfish" "animals," and worse, in disgusting posts on her page. But now, the woman Sims calls her "adopted aunt" has come forward to RadarOnline.com to defend the "innocent" 23-year-old.
"It's ridiculous," Becky Frey, who helped raise April, tells RadarOnline.com exclusively. "At her age, she's just gonna express what she feels. Everybody puts their drama on Facebook. It's not a reason to fire her."
Article continues below advertisement
"It's supposed to be a free country, where everybody gets to speak their mind," Frey continues. "She just had a bad day and was writing to express how she felt at that moment. Don't judge her just because she made a mistake on Facebook."
Indeed, Frey insists, the April who internet commenters are now calling a "bigot" and "idiotic racist" is not the April she knows.
"April is a young girl and she really is a sweetheart," Frey says. "She's so innocent and comes from a small town.
"She's not racist at all. In fact, her mom is hispanic!" Frey reveals. "Her mom and dad, and my husband and I also have lots of black couples as friends."
Still, though Frey will stand by April, she can't help but be disappointed in her actions. "She was not raised that way," Frey says. "She wasn't brought up that way, and she's not that way. Everybody is just blowing this out of proportion."
April first came under fire when a Facebook friend forwarded screenshots of her offensive posts to local media.
Article continues below advertisement
"Black people are outrageous!" she wrote on one post. "They are more like animals, they never know how to act, just loud expletive. Always causing problems. I can count on one hand the black people I know who don't have expletive for brains."
In another, she wrote, "I can count on one hand the black people I know who aren't selfish."
She had been employed with the dispatcher's office since December.
radar_embed service=youtube src="https://www.youtube.com/embed/wyYh_Z3ezJc" width="560" height="315"