'I Listened To Marilyn Monroe Die,' Famed Hollywood Detective Claimed In Recently Uncovered Notes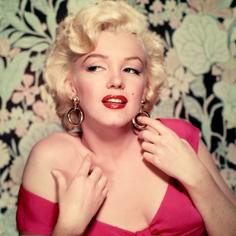 Fifty one years after the death of Hollywood's most celebrated bombshell, new files have been uncovered from a private eye who was bugging Marilyn Monroe's phones, revealing details about her death, and the shocking claim that he listened to her die.
Fred Otash, who worked for old Hollywood's tabloid Confidential, before becoming a private detective, claimed that he was listening to Monroe on the night she died, in documents recently uncovered from the late sleuth's storage unit and published in this week's The Hollywood Reporter – and RadarOnline.com has the details.
Article continues below advertisement
"I listened to Marilyn Monroe die," he claims in the notes that were discovered by his daughter, Colleen, maintaining that he had taped an angry confrontation among Bobby Kennedy, Peter Lawford and Monroe just hours before she died from a drug overdose.
Otash wrote in his notes: "She said she was passed around like a piece of meat. It was a violent argument about their relationship and the commitment and promises he made to her. She was really screaming and they were trying to quiet her down. She's in the bedroom and Bobby gets the pillow and he muffles her on the bed to keep the neighbors from hearing. She finally quieted down and then he was looking to get out of there."
However, Otash didn't learn about her devastating death until Lawford rang him the next day, demanding that he remove any incriminating evidence from her home.
"I would have kept it quiet all my life," Otash told Vanity Fair before his 1992 death. "But all of a sudden, I'm looking at FBI files and CIA files with quotes from my investigators telling them about the work they did on my behalf. It's stupid to sit here and deny that these things are true. Yes, we did have Lawford's house wired. Yes, I did hear a tape of Jack Kennedy f**ing Monroe. But I don't want to get into the moans and groans of their relationship. They were having a sexual relationship -- period."
Article continues below advertisement
The private eye, who followed everyone from Rock Hudson to Judy Garland, was hired by the actress to install recording equipment so that she could record her own phone calls, but was also spying on her at the same time.
"Marilyn wanted a mini-phone listening device," he purports in the notes. "You could hide it in your bra. The microphone was a wristwatch. You could also put a suction cup on the phone. Later on, she wanted a sophisticated system put in her house. We wired up her phone because it started looking stupid with a suction cup."
Spying on Marilyn for gossip wasn't the private eye's intention, however, as he was working for Howard Hughes who wanted information to discredit the democrats, but in the process he listened in on her having sex with Kennedy, who was watching Lawford's house at the time.
"When the original Lawford house was wired, Monroe was not part of the plan," Otash says in the files. "It was to find out what the Democrats were up to on behalf of Howard Hughes and Nixon. Monroe became a by-product."