Marilyn Monroe's 'Letter Of Despair' Goes Up For Auction, 'I Think I Am Going Crazy'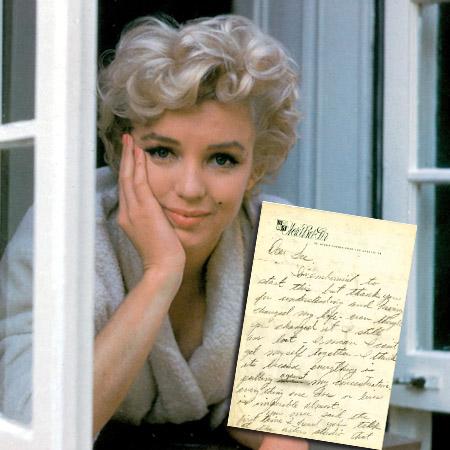 Dark details of the tragic life of Marilyn Monroe have been revealed in black and white with the upcoming sale of a handwritten suicidal message from the stricken star.
The heartbreaking letter of despair was penned by the blonde bombshell to mentor Lee Strasberg and is undated but is believed to have been written shortly before her death on August 5, 1962 at her Los Angeles, Calif., home from a drug overdose, reported the New York Daily News.
Article continues below advertisement
"My will is weak but I can't stand anything. I sound crazy but I think I'm going crazy," the Some Like It Hot star wrote on Hotel Bel-Air letterhead stationery to the highly acclaimed method actor and theater teacher.
"It's just that I get before a camera and my concentration and everything I'm trying to learn leaves me. Then I feel like I'm not existing in the human race at all."
The beautifully scripted note is expected to fetch $30,000 to $50,000 when it goes up for auction on May 30, along with 250 other historical documents that are being sold by an anonymous American collector.
Among the rare items are a typed, undated draft letter from John Lennon to Linda and Paul McCartney expressing his feelings about the animosity between the two Beatles founders, two large photo albums that Adolf Hitler and Benito Mussolini exchanged prior to War World II, and a grand total of 58 letters from Dwight D. Eisenhower to his wife, Mamie, during World War II.