Paula Deen Admits Making Crude Comment After Firing Her Restaurant Manager For Alleged Underage Sex With A Waitress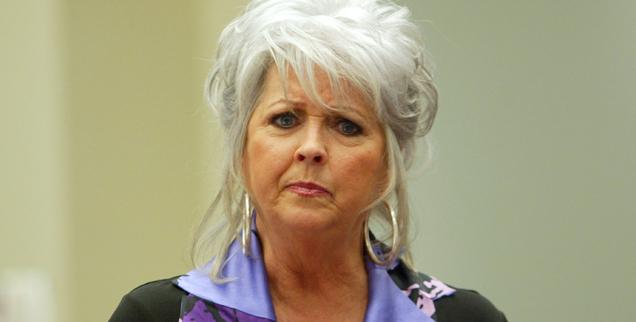 Paula Deen fired the manager of her Savannah, Ga., restaurant because she believed he was having sex with one of her servers — a minor — and then brazenly told staff she did it as she wasn't prepared to lose all she'd worked for "because of a piece of p*ssy."
In a deposition on May 17, obtained in full by RadarOnline.com, the celebrity chef was questioned about how Lisa Jackson came to become general manger of Uncle Bubba's Seafood and Oyster House.
Article continues below advertisement
Jackson is suing Deen and her brother Earl "Bubba' Hiers for $1.2 million, claiming he sexually harassed her for five years, frequently used the the word "n*gger", referred to President Obama as a "n*gger" and watched pornography on work computers.
The 66-year-old Food Network star admitted Jackson got the top job at her popular eatery because the previous GM was fired for an alleged inappropriate relationship.
In a meeting with the axed staffer and Jackson, Deen told Bubba: "If you think I have worked this hard to lose everything because of a piece of pussy, you better think again!"
She continued, "Now I am going to do something I have never done. I am going to put a woman in a man's job."
Here is the exchange from the three-hour videotaped interrogation where Deen confessed to making the forceful and crude remark about a minor's genitala:
Article continues below advertisement
Lawyer: Was the a general manager who was — in the early days who was fired from Uncle Bubba's because he was having a relationship with --
Deen: Yes --
Lawyer: -- a server?
Deen: An underage server.
Lawyer: An underage server?
Deen: Yes.
Lawyer: Okay. And there's a quote attributed to you in the Complaint about that.
Deen: Yes.
Deen: Is that quote accurate?
Lawyer: That is, absolutely. Out of all the accusations I can say that's the only one."
The reality star boldly told the lawyers deposing her: "I said that first sentence… I certainly did. I said it that day and I would say it again if it applied."
According to Jackson, Bubba turned a blind eye to the general manager's supposed relationship with the minor.