Nigella Lawson Takes The Kids And Flees The Home Following Attack By Husband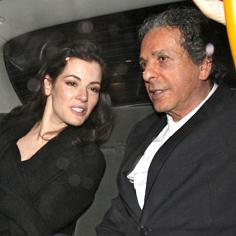 Article continues below advertisement
"We do not know when she will return," a source added. "They slept at a family friend's house last night."
As RadarOnline.com reported on Sunday, 70-year-old Charles is being investigated by authorities for the disturbing incident that occurred two weeks ago in which Nigella left the restaurant extremely distraught and crying.
"Officers from the Community Safety Unit at Westminster are aware of the Sunday People article. Enquiries are in hand to establish the facts of the incident," a spokesman for the London Metropolitan police said.
However, Charles claims the incident wasn't nearly as violent as it appeared.
"There was no grip, it was a playful tiff," he told the Evening Standard.
"The pictures are horrific but give a far more drastic and violent impression of what took place."