Runway To Heaven? How Anorexia, Drugs & Sexualization Are Driving Models To Ditch Fashion For God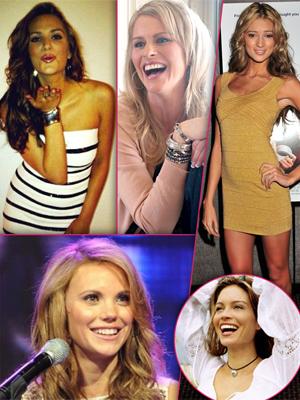 Kylie Bisutti is is hanging up her high heels for the Lord -- and she's not the only sexy model embarking down this path.
In a new piece for New York Magazine's The Cut, journalist Ruth Graham examines a new breed of models-turned-evangelicals, whose disenchantment of the realities of the modeling industry, which include eating disorders, drugs and selling of sexualization, lead them to the church – and RadarOnline.com has the details.
Article continues below advertisement
Nicole Weider was never a household name, but the Elite Model, who moved to Los Angeles from Salem, Oregon, was never fulfilled by her career in front of the camera, with a "Hometown Hotties" shoot for Maxim making her feel "humiliated" and a stand-in job for Adriana Lima at Victoria's Secret disillusioning.
"The women, Weider's idols, were shockingly skinny, and yet the photographer's assistant bragged to her about retouching Gisele Bündchen's thighs on site," writes Graham.
"I just thought, 'Wow, this is so false,'" Weider recalled recently. "After that I was like, 'Wow, I have to share this news with everyone!'"
Finding God at 23 with the help of her friend, Former Miss USA contestant Sheri Rose Shepherd, she started the website Project Inspired, where she preaches an evangelical message. Last year, she even campaigned against Cosmopolitan magazine.
"This magazine has the devil written all over it," she wrote online. "He wants to kill and destroy young girls' hearts and minds and Cosmopolitan is just a vessel for that." Her site now earns about 100,000 visits a month and she just sold a book to a "well-known Christian publisher."
Article continues below advertisement
Weider, along with Bisutti, America's Next Top Model's Leah Darrow, Jennifer Strickland and Rachel Lee Carter are just a few of the models who are preaching about the dangers of the industry, and all the toxic things they have witnessed or experienced, according to Weider.
"These women boast different levels of industry success, but many describe a crystallizing moment of abject horror at the fashion world's vices, which they may or may not have dabbled in," she explains.
"Most of them struggled with eating disorders or depression, and now preach a message of modesty and self-esteem. And they do so while keeping a traditionally feminine look: They're all slim, almost all of them have long hair, they wear plenty of makeup and jewelry, and they choose stylish, if not fashion-forward, clothing."
Strickland, whose upcoming book Beautiful Lies urges women to not to let "men, mirrors, and magazines" define them, spent years modeling on the runways in Milan, attempted suicide during her successful stint as a model, and then her life changed when she met people handing out bibles in a park.
Article continues below advertisement
"You had to be anorexic to be an Armani runway model," she revealed to Weider. "I don't see any other option."
Rachel Lee Carter's experience is a little different from the other girls – because after quitting the industry, heading to bible college and losing weight "naturally" the now-38-year-old, claims that her religion drew her back to modeling.
"The Lord was saying, 'Go back, but go on my terms,'" she recalls. "Unbelievably, I worked more than I could have ever imagined.
"No alcohol advertisements, no cigarettes, nothing provocative, no lingerie or anything see-through, or anything homosexual in nature," she added.
"In the book of Daniel, it says in the first chapter that Daniel 'purposed in his heart' not to defile his body. That's the cornerstone of my work in this industry."
To read more about why models are turning to God, click here.