Exclusive
Million Dollar Listing NY's Fredrik Eklund Begged For Ryan Serhant's Nude Scene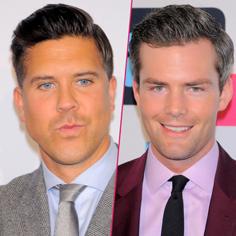 Fredrik Eklund has a history of getting naked for the camera — not only is he a real estate broker featured on Bravo's hit series Million Dollar Listing New York, but he's also a gay porn actor who uses the pseudonym "Tag Eriksson."
So when it came to his Million Dollar Listing co-star Ryan Serhant getting a nude scene in the first episode of this new season, Fredrik was completely jealous and requested one of his own, RadarOnline.com is exclusively reporting.
Article continues below advertisement
"When Fredrick found out that Ryan had a nude scene in the first episode, Fredrik lobbied for his own nude scene," a source close to production told Radar.
Unfortunately, Fredrik didn't score his own naked moment on the show.
"Producers felt that Fredrik has enough nude scenes in his porn films and nixed the idea," the source said.
And it's not the first time that Fredrik's jealousy over Ryan has caused a problem.
When the Million Dollar Listing guys filmed Watch What Happens Live, Fredrik threw a fit about not being placed in the star seat by host Andy Cohen.
"People behind the scenes heard Fredrik demanding to be sat in the 'star seat,' the seat closest to Andy's that is reserved for A-list celebrities," the source said.
"But the producers already planned on placing Ryan in the star seat, so they rejected Fredrik's request and he remained angry the rest of the show."
Article continues below advertisement
Behind the scenes, Fredrik has even tried to get their co-star Luis D. Ortiz to take his side in the drama, but Luis always remains neutral.
"Fredrik's plan was to get Luis on his side, but that plan backfired when Fredrik picked a huge fight with Luis during filming," the source told Radar.
"Luis has no patience for Fredrik's drama and is keeping a safe distance for now."
So how does this jealousy affect Ryan?
"Ryan doesn't pay attention to Fredrik's theatrics," the source concluded. "He focuses on real estate and is totally unaware of his fame. Ryan is down to earth and nice to everyone and that's why people like him."