Exclusive
Million Dollar Listing Star Ryan Serhant Dishes On Catwalk Return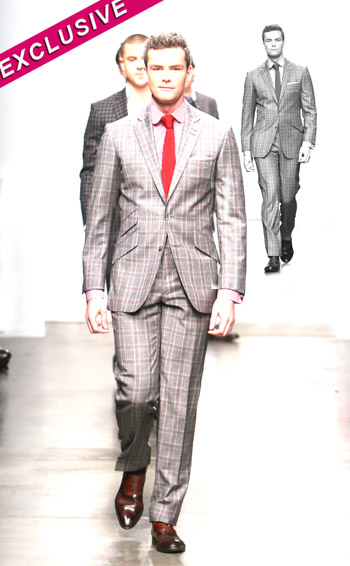 By Adriane Schwartz - RadarOnline.com Reporter
Ryan Serhant recently made a long awaited return to the catwalk and RadarOnline.com caught up with the celebrity real estate broker backstage at Nolcha Fashion Week in New York moments before he took to the runway.
The Million Dollar Listing star is a former model but confessed he was nervous about gracing the catwalk after so much time and was afraid he'd fall flat on his face!
Article continues below advertisement
Ryan, one of New York's most successful brokers, was being fitted for his suit before his next walk down the runway when RadarOnline.com spoke to him.
When asked if he'd suffered a bout of stage fright, Ryan, who was wearing UK designer Richard Smith, said: "Of course I was nervous, I was in Los Angeles a few years ago and will never forget the runway show I attended with a friend.
"Suddenly, Carmen Electra literally fell face first on the runway and I felt terrible for her because she is such a sweetheart. It's happened a few times after that as well when I was at shows so I was terrified that I was cursed with falling on the runway."
RadarOnline.com asked if he felt comfortable in a suit, he said: "I have to admit, if I was uncomfortable in a suit then I am in the wrong profession!
"It was a bit of a challenge to wear a suit all day, every day, so why not wear one on the runway?"
And Ryan isn't ruling out returning to modeling full time either. He said, "I think I may start walking more runways if possible.
"The only stress of that job is to walk in a straight line!"
When asked his opinion on designer Richard Smith, Ryan, who was one of 10 "notable NYC business men" to appear in the show, replied, "I loved Richard's designs.
"The suit Richard made for me is nothing short of spectacular. He has impeccable taste and his designs are perfectly fitted.
"It was truly an honor to walk in his show."
Nolcha Fashion Week is a showcase for independent designers.
RELATED GALLERIES: