Exclusive
Michael Jackson Death Doc Conrad Murray Could Be Out Of Jail By The End Of Summer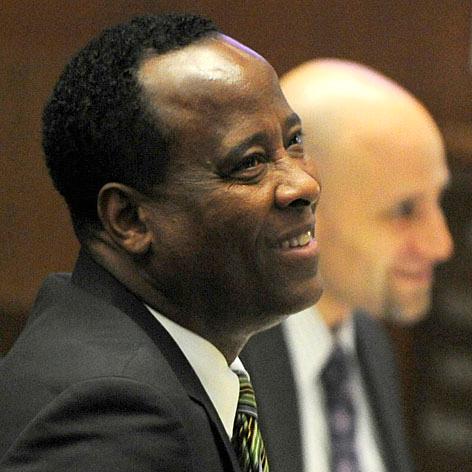 Conrad Murray is hopeful that he will be out of jail by the end of August after serving just two years of a four-year jail sentence for the involuntary manslaughter of Michael Jackson, RadarOnline.com has exclusively learned.
The killer doc is "boasting to his girlfriend, Nicole Alvarez, that he will be out of jail by the end of summer. He is counting down the days until he is released," a source close to the situation revealed.
Article continues below advertisement
Murray — convicted in November 2011 over the death of the "Thriller" singer, 50 — is currently behind bars at Men's Central Jail in Los Angeles.
"Murray has complained that he should have been let out sooner and says the only reason it hasn't happened is because Sheriff Lee Baca is running for re-election and doesn't want to deal with negative publicity if he was released and placed on house arrest," the source said.
In Los Angeles County, the jails are run by the Los Angeles Sheriff's Department and prison overcrowding dictates that inmates typically serve less than half of their sentences for non-violent convictions.
Involuntary manslaughter falls into that category.
As RadarOnline.com previously exposed, the disgraced cardiologist has had special treatment whilst locked up, having been granted a personal cell phone to use,
Article continues below advertisement
"Dr. Murray was given a phone because of the resources it would take to take him out of his cell to take him to the pay phone were just tapping the already very limited jail resources," said the source.
"He is on his phone 24/7, typically calling his baby mama, Nicole Alvarez, along with his attorney. The phone can't receive any incoming phone calls but Murray can place collect calls to anyone he wants."
Ironically, Murray could be released during the final days of the wrongful death lawsuit which claims AEG negligently hired him.
Murray refuses to face the Los Angeles court to say if he was forced to pump the King of Pop full of drugs for shows. The trial is expected to continue for months.