'Addict' Lindsay Lohan Needs 'Intensive Treatment' To Avoid Disaster Says CEO of Her New Rehab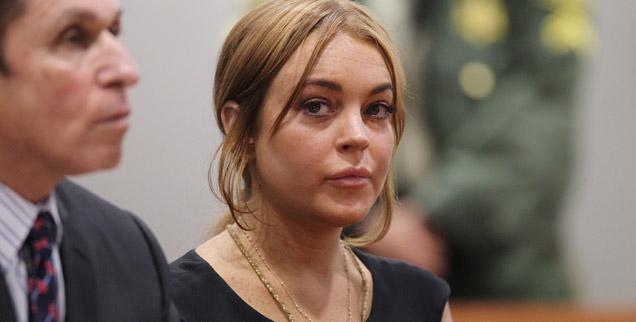 Article continues below advertisement
As Radar reported earlier, Lindsay is skipping out of Betty Ford for Cliffside rehab.
Lindsay "is definitely spiraling out of control," Taite said in an interview with Celebzter.com last November, before he knew he was going to get her as a patient. "She is continually getting into trouble and any reasonable person can tell she needs help.
"Given her numerous arrests and convictions, any sober person would be motivated to stop their destructive behavior. But addicts don't think that way. She is walking a slippery slope, and if she doesn't get help soon, she will, in all probability, seriously hurt herself or someone else."
In yet another interview with the site about Lindsay, he said, "There is complete lack of accountability here and a complete deniability of where she is in the arc of her life. … In my opinion, if she doesn't get top notch intensive treatment, Lindsay is going to get progressively worse. There are only so many bullets you can dodge before you get hit. The train is about to come off the track and a train wreck isn't that far off."
Article continues below advertisement
Well the train is now pulling into your rehab, Taite!
Lindsay's train wreck came in the form of a court-ordered 90-day rehab stay. Now, just 30 days into treatment, Lindsay is changing facilities and since she has been off Adderall she has gained some weight as RadarOnline.com reported.
But Lindsay is unlikely to be reunited with the medication at Cliffside, if Taite's past comments are any indication. The treatment center's CEO and president believes Adderall is frequently abused, he said in an interview last year, "Top-notch psychiatrists are more conservative with prescribing medication, but they are like finding a needle in a haystack."
And for many users, the "addictive" pill, Taite says, can be a road to ruin. "Just like all other drugs, at first it's all fun," Taite explained. "Then you graduate to fun with problems. And then you graduate to all problems."
Instead of self-medicating, Taite believes Lindsay needs to address deeper-seated problems that stem from her tumultuous childhood with Michael and Dina Lohan.
"Drug addiction can typically happen to people when they don't get their emotional needs met as children," he's said. "Sometimes, the anger they feel consciously or unconsciously causes them to act out aggressively. To dull the emotional pain, they may turn to drugs and alcohol. Lindsay has had so many episodes of this nature, that she really needs to get professional, long-term treatment where she will learn to change her lifestyle and habits."