LeAnn Rimes' Spitfire Song Lyrics Slammed By Her Ex-Husband Dean Sheremet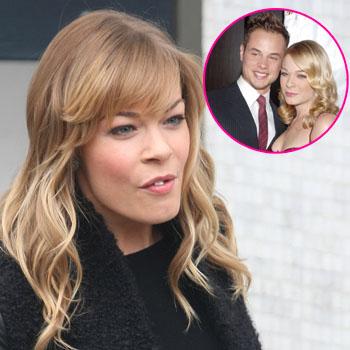 LeAnn Rimes counts Brandi Glanville among her haters, but it looks like her ex-husband is still harboring some ill will towards her too if his sarcastic zinger to her is any indication.
Dean Sheremet was married to LeAnn when she started her illicit affair with Eddie Cibrian and she subsequently dumped him to marry the Sunset Beach star.
"Cannot believe my new album Spitfire comes out tonight at midnight! #spitfirejune4" LeAnn wrote, and her ex, who rarely interacts with her on Twitter responded.
Article continues below advertisement
"I co-wrote #godtakescareofyourkind," Dean wrote, referencing one of the songs on her new album.
God Takes Care of Your Kind takes a dig at an unnamed person, saying "You're a real big boy but you have a real small/Mind my manners and hush//That's a judgment I won't touch/'Cause God takes care of your kind/Yeah God takes care of your kind."
The chorus slams a person who has wronged LeAnn, saying they'll get what's due to them for bad behavior.
"Oh, I would hate to be you/When the devil comes to get his due/Stop pretending you have no clue/'Cause I've stopped being your fool/Yeah why waste pity on you/'Cause God takes care of your kind/Yeah God takes care of your kind/You won't even be a thought in my mind/'Cause God takes care of your kind."
Dean doesn't follow LeAnn on Twitter, but took time out of his day to send the pointed Tweet to his ex.
He does follow Brandi Glanville on Twitter though, and she recently slammed the album, saying LeAnn's lyrics were terrible.
"If LeAnn wants her career back, she needs better lyrics. These are the worst songs I've ever heard. No one wants to listen to this!"
Spitfire hits stores Tuesday, June 4.