Kim Zolciak Admits She's Been A Hands-Off Mom, Made Daughter Brielle 'Feel Like She Lost Her Mom'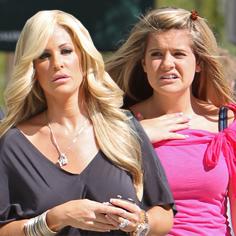 Former Real Housewives of Atlanta star Kim Zolciak has been a pretty busy woman in the past few years.
Since meeting her now-husband Atlanta Falcons defensive end Kroy Biermann in May 2010, Kim has welcomed two sons — Kroy, Jr., 2, and Kash Kade, 9 months — into this world, filmed for both Housewives and her Bravo reality show, Don't Be Tardy… -- and has overseen the construction on a new house.
So, it only made since that during the June 11 episode of Don't Be Tardy…, that Kim's oldest daughter Brielle, 16, went to her mother upset about the fact that she was feeling like her mother had forgotten about her.
Article continues below advertisement
Kim and Brielle then had a serious talk about their relationship and Kim promised to spend more time with her dejected daughter.
"Ever since I've had KJ I've been so busy -- having a newborn, moving into a home, planning a wedding, getting pregnant again, moving again, giving birth, building a new home, and filming four shows all in two years!!!," Kim explains in her June 12 Bravo Blog. "In between all that I forgot how much Brielle still needed me, regardless of how independent and mature she is."
Kim admits that she has made Brielle feel lost.
"Brielle is my first born; I had her so young that we basically grew up together!" she says. "Not only did she feel like she lost her mom in the midst of all this madness, but she also lost her friend."
But Kim claims that she doesn't deliberately mean to make her daughter feel that way.
"I have no favoritism towards my kids of course, but newborns and toddlers do require more attention and juggling that has been a struggle for me," she says.
Article continues below advertisement
Kim continues, "Like I said, I've made some mistakes since I've had the boys. Parenting is a learning process."
So, since having the talk with Brielle, Kim is trying harder to divide her time more equally between all of her children.
"Brielle was really used to it just being her, Ariana, and myself and has had to make some adjustments rather quickly; we all did!" Kim says. "But ever since my talk with Brielle, things have been so much better."
In the end, Kim is glad that Brielle was able to be honest with her.
"We really had a heart to heart, and I'm so grateful she let me know how she was feeling," Kim says. "I love my kids more than anything, and it broke my heart that Brielle was feeling that way!"