Kim Zolciak Tears Into Parents For Choosing 'Money And Fame' Over Her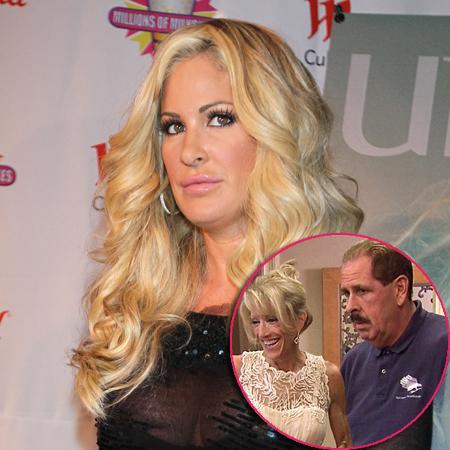 Kim Zolciak, in an emotional blog recapping this past week's edition of Don't Be Tardy, attacked her parents for speaking to the media about her.
As we previously reported, the show chronicled Kim's falling out with her father (around Thanksgiving) after he spoke negatively about her to the media, calling her "a pathological liar," and negatively adding that she has four kids by three men.
"Reading the accusations and opinions coming from my dad of all people really tore me up inside," she wrote in her newest blog. "I've always been a daddy's girl, and throughout this all I still had a slight feeling that my dad was on my side."
Article continues below advertisement
The former Real Housewives of Atlanta star, 34, has also had a notoriously rocky relationship with her mother Karen.
"I never knew that money and fame was worth ruining our family," the sassy Southern belle wrote. "There isn't enough money in this entire world worth ruining my relationship with my children!
"If you can't trust family, who can you trust?"
She wrote that telling her daughter Brielle about the family feud "is probably the hardest thing that I've had to do in the last couple of years, but all of this has just made us so much stronger as a family unit!
"I know I will never be able to replace my parents," she wrote, "but over the years I have realized that you aren't able to choose your own family."
Don't Be Tardy airs Tuesdays on Bravo at 10/9c.