Kim Zolciak Tries To Recreate Her Wedding For First Anniversary -- See If She Can Pull It Off!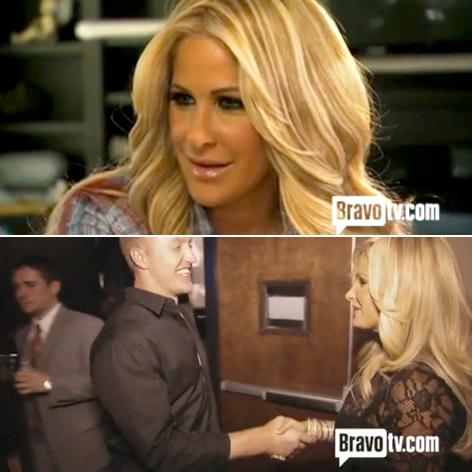 Forward planning is not Kim Zolciak's forte, and in true diva style the reality star tried to pull off a last minute extravaganza for her first wedding anniversary – despite having a year's notice! -- and RadarOnline.com has the video.
"I'm trying to get my life together. I really need to plan our anniversary," complained Kim to best friend and hair stylist Shun Melson in an upcoming episode of Don't Be Tardy, before dropping the bombshell: "We've got five days."
Article continues below advertisement
The 34-year-old Real Housewives of Atlanta star and second husband NFL player Kroy Biermann were married in a lavish ceremony on November 11, 2011, but now the busy working mom has her hands so full with family and fame that planning their anniversary celebration fell by the wayside.
"I've got four kids, I've barely got time to take a sh*t," said the blunt-talking Southern belle.
Thankfully, her trusty sidekick was there to help – or calm Kim's nerves at least.
"Shun is not only my stylist, she's one of my best friends. She's been around me long enough to know that I do things last minute," Zolciak told viewers, before embarking into details of her outlandish dream night.
"Here's what I'm thinking; I wanna surprise Kroy. I met Kroy three years ago at this place called Puritan Mill, so I want to go there and recreate our wedding," she explained.
"With decorations and outfits and all that?" asked her mystified pal.
Off camera, Melson revealed, "It's impossible to try to recreate a wedding in five days, but I can't tell her that, it's like talking to a wall."
To find out if Kim and Shun manage to pull off the anniversary party of the year, tune into Don't Be Tardy on Bravo on Tuesday, April 23.