Katy Perry Hints At Dark Secret Behind Russell Brand Divorce And Reveals He Ended Marriage Via Text Message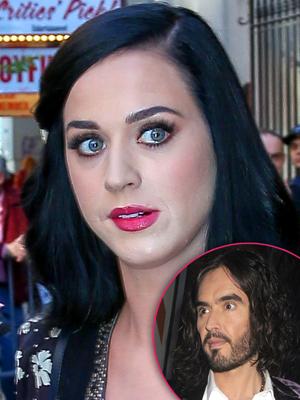 Katy Perry hints that there is a dark secret behind her divorce from Russell Brand, -- a secret that she says she is keeping "locked in my safe for a rainy day."
In an intriguing new interview in the July 2013 issue of Vogue, Perry opens up about the painful dissolution of her marriage, revealing that he actor shockingly told her he was divorcing her via text message – and RadarOnline.com has the details.
Article continues below advertisement
"He's a very smart man, and I was in love with him when I married him," Perry admits about Brand. "Let's just say I haven't heard from him since he texted me saying he was divorcing me December 31, 2011."
And while the divorce caught her completely off guard, she says she later discovered the reason behind it and realized it had nothing to do with her. That secret is one she isn't revealing but here's what she told Vogue about it:
"At first when I met him he wanted an equal, and I think a lot of times strong men do want an equal, but then they get that equal and they're like, I can't handle the equalness.
"He didn't like the atmosphere of me being the boss on tour. So that was really hurtful, and it was very controlling, which was upsetting. I felt a lot of responsibility for it ending, but then I found out the real truth, which I can't necessarily disclose because I keep it locked in my safe for a rainy day. I let go and I was like: This isn't because of me; this is beyond me. So I have moved on from that."
Article continues below advertisement
Intriguing!
Although Brand's sense of humor kept Perry entertained in the beginning, she admits it ended up taking its toll on their relationship.
"Hysterical in some ways," she says about him. "Until he started making jokes about me and he didn't know I was in the audience, because I had come to surprise him at one of his shows. So. Hysterical to a point."
The singer does, however, take responsibility for some things concerning the marriage's failure.
"I mean, I have to claim my own responsibility in things. I do admit that I was on the road a lot. Although I invited him time and time again, and I tried to come home as much as I possibly could. You saw that in the movie," she says about her movie, Katy Perry: Part of Me.
"That wasn't edited to leave footage out—there wasn't any footage of him."