Exclusive
Katherine Webb's QB Boyfriend AJ McCarron 'Freaking Out' As Night With Lingerie Model Is Exposed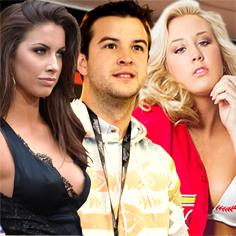 Most guys would be proud to have spent the night with a hot blonde lingerie model. But Alabama QB AJ McCarron, the boyfriend of gorgeous Splash star Katherine Webb, is "freaking out" about having his night with stunning Margaret Wood exposed, an insider tells RadarOnline.com.
He even told her to lie about their time together!
Shortly after the story was broken on RadarOnline.com, the source says, "AJ was calling and texting Margaret nonstop. He was totally freaking out about the story being out there. He told her it was going to mess up a lot of stuff."
Article continues below advertisement
"AJ said she should have called him before giving the interview," added the insider.
What's more, the source claims, "He was really mad about her revealing that she stayed at his place. He asked her why she didn't just lie and say she stayed in a hotel. Why should Margaret lie for him?! The whole thing was no big deal."
Indeed, "AJ's just hoping it all blows over. He's not going to say anything about it so hopefully people stop talking about it."
For her part, Margaret has declined all future interview requests and refused to comment further when contacted by RadarOnline.com.
Neither AJ nor Katherine have commented or Tweeted since the story's release.