Exclusive
Justin Bieber Flirting With Miley Cyrus Was The Last Straw For Selena Gomez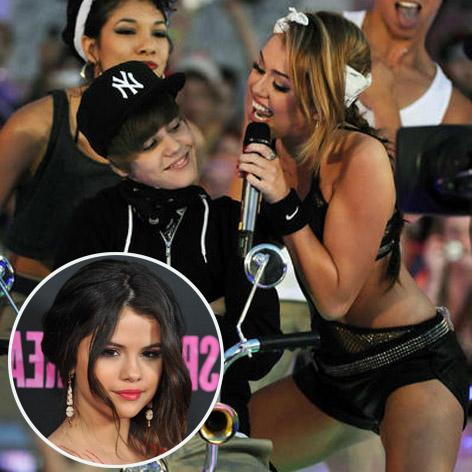 Selena Gomez has already ended things with Justin Bieber for good, but recent snaps of the Canadian pop star flirting at a Hollywood nightclub with Miley Cyrus have her fired up and she's furious with him for trying to throw it in her face, RadarOnline.com is exclusively reporting.
Justin and Miley hung out at Beacher's Madhouse in the wee hours of Sunday morning and his leopard-covered Audi was photographed at her house on Saturday, causing speculation the two were getting close.
Article continues below advertisement
"It was already over with Justin, but seeing him hang out with Miley was the last straw for Selena," a source close to the former Disney star told Radar.
"She's not a Miley fan by any means and feels like Justin purposely did it just to piss her off. She's completely severing ties with him now."
As RadarOnline.com exclusively reported last week, Selena ended things — for good — with Justin, at the urging of her close friends and family.
"She's finally taken some of their advice to heart and swears it's finally over with him, for good," the source said.
"She doesn't see herself getting back together with him and just needs to move on."
As for Justin and Miley being more than friends, the insider said they don't foresee a relationship between the two (especially since Miley is still engaged to Liam Hemsworth), but Selena wouldn't put it past them to fool around.
"Both Justin and Selena are known for making bad choices, so Selena's not convinced that in the heat of the moment Miley wouldn't slip," the insider told Radar.
"And that's why Selena is completely removing herself from the situation. Removing herself from Justin's life."