Taylor Swift Isn't A Belieber! Doesn't Approve Of BFF Selena Gomez Dating Justin Bieber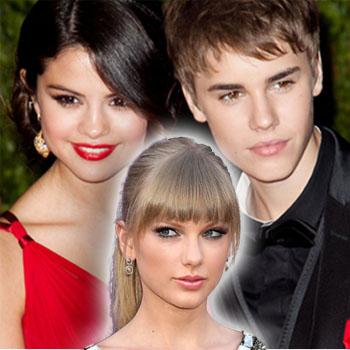 Taylor Swift doesn't approve of her best friend Selena Gomez getting back together with Justin Bieber, RadarOnline.com is exclusively reporting.
According to the insider, Taylor wants nothing more than for her BFF to be happy but she doesn't think rekindling the romance with Justin is a smart move.
"Let's just put it this way: Taylor is not a Belieber," a source close to the girls told Radar.
"She loves Selena and wants her to be happy but she doesn't think going back and forth with Justin is the answer. That being said, Taylor's also a little bit jealous in a weird way."
Article continues below advertisement
As RadarOnline.com reported earlier this month, Selena confirmed to a Boston radio station that she was single again — but she was then spotted giving Justin a kiss backstage at the Billboard Music Awards last weekend — forcing Taylor to stick out her tongue in disgust.
The insider told Radar that as a serial dater, Taylor doesn't like to be single and is jealous that her best friend's attention is so easily snatched by Bieber.
"Taylor is jealous that Selena still has Justin as 'her person' to go to, but she's not jealous of who Selena's on and off with," the source said.
"She thinks Justin is a brat and that Selena could do way better."