Drake Slams 'Enemy' Chris Brown, Says Nasty Feud Over Rihanna 'Could End Really Badly'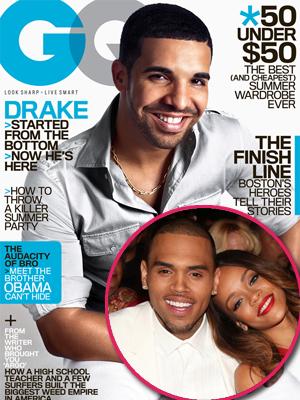 The infamous rap war between Drake and Chris Brown is far from over.
The two hip-hop stars, whose freestyle feud over songstress Rihanna culminated in a bloody bar brawl in June 2012, are still at odds over a year later admits Drake in the July 2013 issue of GQ.
Drake slams the controversial Forever singer and admits that their ongoing tension will most likely implode in the worst way possible – and RadarOnline.com has the details.
Article continues below advertisement
"I don't want my name to be synonymous with that guy's name. I really don't," Drake states. "I wish we could sit down, just like you and me are right now, and talk it out man-to-man. But that's not going to happen. I'm not confrontational, but if someone challenges, I'm not going to back down."
Admitting the feud ignited over Rihanna, Drake tells the men's magazine that he isn't backing down anytime soon.
"It's embarrassing, the amount of media coverage," he continues. "Two rappers fighting over the woman. He's not even a rapper, but still, it's the last way you want your name out there. It distracts from the music. But he's made me the enemy, and that's the way it's gonna stay, I guess. …If I think about it too much, I feel it wrapping around my foot, like I get a feeling it could end really badly."
Whose side are you on? Sound off below.