Brandi Glanville Gets New Pooch While Still Searching For Stolen Dog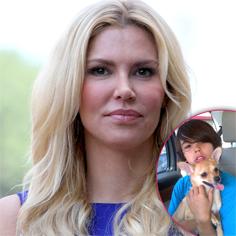 Article continues below advertisement
"This **tch that is taking down my dog signs is very lucky to be breathing at the moment. If my kids weren't with me it was about to be ON," she vowed to her followers.
Brandi's new dog looks like he's settling right in with the devastated family, being lovingly cuddled by her son Mason.
"We have a new family member until Chica comes back to us. His name is Chico," the reality wrote and shared photos of her son with the pup.
"Mason renamed him Chody."
The loss of her dog has been so traumatic that it even seems to have healed the greatest wound of all – her animosity towards ex-hubby Eddie Cibrian's wife LeAnn Rimes, who tweeted to her own fans asking for help finding the dog.
Brandi described what happened to poor Chica, saying that her house was broken into and someone stole the dog, and she's offering a $10,000 reward for the safe return of her.