Brandi Glanville Forced To Move Home Because Of Crazed Fans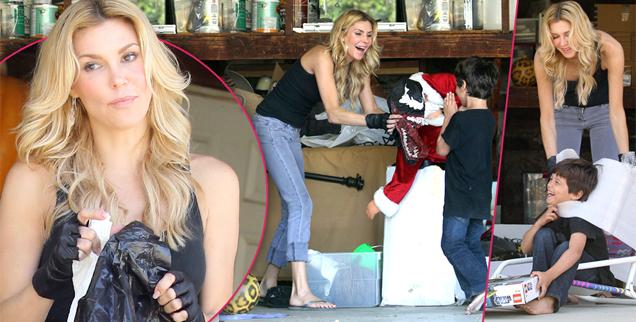 There are some realities for a reality television star that are a little close to home.
The Real Housewives of Beverly Hills star Brandi Glanville has revealed she's being forced to move to a gated community in Los Angeles after crazed fans turned up to her current digs -- where she lives with sons Mason and Jake -- in the middle of the night.
"I need a little more privacy," Brandi, 40, said in a new interview.
Article continues below advertisement
"I had some people that are fans of the show and they were just coming up knocking on the door at all hours of the night. I need more security and maybe a gate for the safety of the children and myself."
Because privacy is her top priority, Brandi is staying tight-lipped about where she plans to move, but said her new rental will still be near her kids' school and not too far from their father, actor Eddie Cibrian.
"The kids will be at the same school," said Brandi. "I would never pull them away from their friends."
"Being a single woman, I'm by myself half the time and the other half I have two little boys and I have to protect them. I can't have no privacy and people coming to the door at all hours."
And she's looking to upgrade in residence as well, perhaps to compete with other housewives or her arch nemesis LeAnn Rimes, who married Cibrian in the wake of his split from Glanville -- and recently purchased a $3 million home in the Hidden Hills, Calif .
Article continues below advertisement
"That really has nothing to do with it," insisted Brandi.
"I'm happy for the boys, they're very lucky boys. They have a movie theater and all this stuff at their dad's. It's not a competition. It's not like they're moving so I'm moving. It really is a safety and privacy thing."
Though there won't be a movie theatre, the ex-wife of Cibrian said she's looking for a home with a pool so her children to the actor "can swim off all of their crazy energy."
She added, "This is the first one we've had without a pool. I need to have activities for them and a pool is great."
Another home essential is a bigger yard.
"There's not much room for the kids to play outside right now," Brandi said. "We have a little tiny square of grass with a swing set in and that's kind of it. I need a little more yard for them to go crazy."
As she continues to prepare for the move, time is ticking: Brandi revealed she has just 20 days before she needs to move out of the current home.
She said she's "very stressed out," adding: "We have 20 days left to find a house, but of course, all the ones I like, I can't afford."
Another issue is her role on the Real Housewives.
Explained Brandi, "It's hard because a lot of the houses I like don't allow filming. You have to get that cleared with the landlord, so that's been a little bit of an issue with the two houses I did try to get and really fell in love with. They didn't want filming inside which I respect and understand, but my life has to be filmed."