Brandi Glanville's House Broken Into, Offering $10K Reward For Missing Dog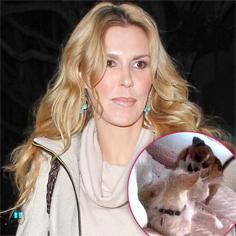 Article continues below advertisement
"My house was broken into one of my dogs is missing," she tweeted Friday morning.
But it didn't end there. She also revealed that people have been calling her and pretending to have Chica.
"people R calling pretending 2 have her. This is devistatingsic-I will pay money give her back."
On Thursday night, Glanville started tweeting about her missing dog, offering a $10,000 reward.
"My dog Chica is lost please help! Call me," she tweeted. "I will give anyone who finds my dog chica in Bel air, La, Encino area 10 thousand dollars. Please please. She has a collar call me!"
She also shared a photo of Chica, who she describes as "A little brown chihuawa sic mix."
"My boys will be devistatated sic," she added.
Glanville moved into her new home in April 2013, claiming she needed more privacy from her fans.
"I need a little more privacy," Brandi said in an interview.
"I had some people that are fans of the show and they were just coming up knocking on the door at all hours of the night. I need more security and maybe a gate for the safety of the children and myself."