Real Housewives of Orange County: Vicki Gunvalson & Tamra Barney Make Nice After 'Bleep' Blowout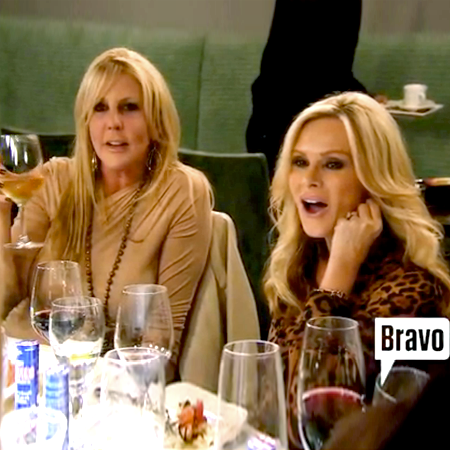 Vicki Gunvalson and Tamra Barney mended fences on Monday's episode of Real Housewives of Orange County after their tense exchange on last week's episode, culminating in Tamra calling Vicki a "b**ch."
The blonde beauties exchanged pleasantries over -- What else? -- wine, with Tamra making the first apologetic overture.
"Well, I'm sorry for call you a b**ch, I didn't mean to call you a b**ch, you know me, I get frustrated," the admittedly-mercurial Tamra said.
Article continues below advertisement
Vicki, sticking to the same reason she gave last week, told her frenemy, "But I had, just so you know, a dinner date," adding she could sense hostility in Tamra's body language during last week's outing in Malibu.
Tamra asked Vicki, the show's original cast member, if her moodiness last week was connected to the fact she was solo amongst a group of happy couples, but Vicki protested, "I'm good without a man," and that she "really wasn't a b**ch" during the exchange.
"You're still a b**ch," Tamra joked with Vicki, who playfully countered, "You're the b**ch!"
And while it ended with both women smiling, the saucy summit had a critic in Gretchen Rossi, who felt like the odd person out with Vicki and Tamra back on toasting terms.
"If they want to play, "Let's sweep it under the rug,' that's the way they want to play it," Gretchen said, noting she wouldn't take issue with the reunion so long as Tamra didn't push her aside to make room for Vicki.
Watch the video on RadarOnline.com
The Real Housewives of Orange County airs on Bravo Monday at 9/8c.