Prince Harry Scores! Hits A Home Run In The US, Literally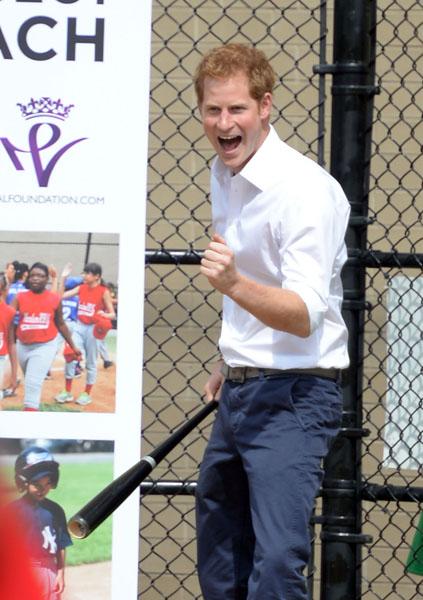 Playing baseball in New Jersey is a long way from playing naked billiards in Las Vegas.
Prince Harry spent some time on a baseball diamond Tuesday afternoon and RadarOnline.com has photos of his first score in America – and it was a home run.
Wearing a suit, Prince Harry was up to bat while New York Yankees player Mark Teixeira pitched the ball to him while visiting Project Coach, a community sports project in East Harlem that is working with the Prince's Royal Foundation.
Article continues below advertisement
Dubbed "Prince Harry of Harlem," the 28-year-old was even given his own jersey marked with the number one.
"Everybody here enjoys having Yankees around but when Prince Harry shows up it takes it up to a whole different level," Teixeira said about having the third in line to the British throne visit the ballpark.
While normally seen on a polo pony, Prince William's younger brother seemed at ease with the bat in his hands.
"He's a very good athlete you can tell that right away. I was just telling him 'keep round the ball.' He knew what he was doing. He played some cricket growing up and he's seen American baseball – he's a natural," Teixeira exclaimed.
This time Harry managed to keep his clothes on for this decidedly less rowdy visit to the U.S.