Turn It Off! Theater Critic Throws Woman's Phone Against Wall In Rage During Play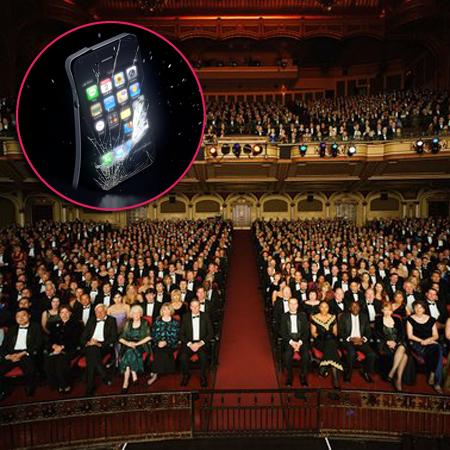 A New York theater critic took etiquette into his own hands when a fellow playgoer continued texting on her phone on during the show, tossing the device into a wall after the woman repeatedly ignored instructions to turn it off.
National Review theater critic Kevin Williamson said he couldn't take it anymore at a rendition of Natasha, Pierre, and the Great Comet of 1812 held in the Meatpacking District.
Article continues below advertisement
"I did it to make a statement -- but also I was just annoyed," the 40-year-old writer told The New York Post. "I go to the theater every week, and I'm used to bad behavior.
"But this was over the top. These are people who are not smart enough to sit through a two-hour play."
Ushers (and Williamson) asked the unnamed woman to turn off the device in accordance with the house rules, play officials said, but she didn't heed their warning.
"We went in and warned her," producer Howard Kagan told the paper. "We tried to address the problem without making a scene."
After Williamson tossed the phone, doing damage to it, the woman smacked him in the face. He was subsequently thrown out of the venue, and while the woman said she would file a police report, she has not yet, according to Williamson.