Exclusive
LeAnn Rimes' Camp Claims Brandi Glanville Creating Twitter Drama To Coincide With Singer's New Album Release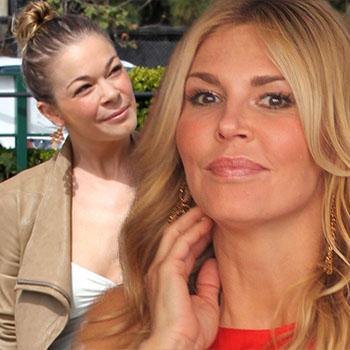 Article continues below advertisement
"Coincidence that she starts this all up as press for LeAnn's new album has started --­ it's so transparent."
The hostilities erupted again when Glanville, 40, slammed her ex-husband, Eddie Cibrian, who married Rimes in 2011, claiming she was not able to get in contact with their children, nine-year-old Mason and Jake, six.
Reopening the three-year spat, the reality star took to Twitter and claimed she was only allowed to the call the children for half-an-hour each night, when they're with their father.
"I tweeted the father of my boys Mon night after trying to reach them for an hour. I dont know Y ANY1 else tweeted me back with involvment (sic)," Glanville wrote.
"The kids called me 1 minute after that tweet #therealtruth Im so sick of BS lies I tweeted EC not his wife she should mind her business.
"I am NOT in a twitter war with ANYONE! No matter how hard people try tomake it about them.
"Ive been doing my best to not engage, I have no war with anyone I just miss my babes."
Seemingly fed-up with the drama, Rimes, 30, whose new album will be released on June 4, retorted: "Name calling and twitter rants are so 2012. Music and truth is so 2013."
A source close to Cibrian and Rimes told RadarOnline.com: "It is completely inaccurate that Brandi doesn't have a phone number for the boys -- she absolutely does as well as a number for Eddie, the house and an email address.
"Of course, she is also aware that Eddie doesnt even use his Twitter account so there was no reason to have tweeted him beyond to ensure that this all went public."